About the Show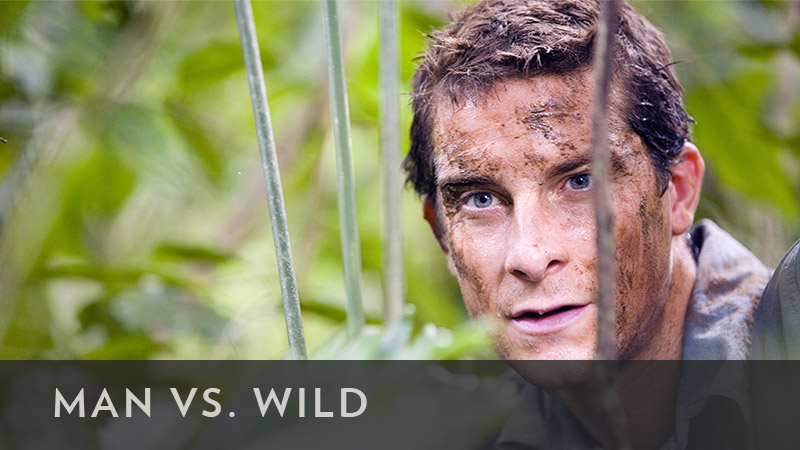 About the Show
Bear Grylls has served with the British Special forces, climbed Everest and explored the Arctic. In this exciting series, he shows us how to survive the toughest and most visited environments on the planet by putting himself in the position of a stranded tourist. He parachutes into rainforests, abseils into deserts and lakes, and onto the highest, most inhospitable peaks in America. Using his specialist survival techniques to find his way out of these wildernesses, he climbs sheer cliffs, navigates white water and icy crevasses, encounters snakes, spiders and predators, and forages for food — from maggots and raw fish to roots and berries.
Man vs. Wild host, author and seasoned adventurer Bear Grylls began a lifetime of exploration at an early age. Bear grew up on the Isle of Wight, and as a young boy would go mountain climbing with his father. He served three years with the Special Air Service, a special forces unit of the British army. During his service, he broke his back in three places in a parachuting accident over Southern Africa.
Despite the accident and severity of his injury, Bear went on in 1998 to become, at age 23, one of the youngest ever climbers to summit Mount Everest. He wrote about his experience in the book, The Kid Who Climbed Everest.
Not content to slow down, Bear achieved another first when he and his Everest climbing group circumnavigated the United Kingdom on jet skis. He also led the first unassisted crossing of the frozen North Atlantic Ocean in an open rigid inflatable boat. His book about this adventure, Facing the Frozen Ocean, was shortlisted as the U.K.'s "Sports Book of the Year." Bear was awarded a commission in the Royal Navy in honor of leading this record-breaking expedition.
In June 2005, Bear broke a world record by hosting a dinner party at a table suspended below a hot air balloon at 24,500 feet. On May 15, 2007, Bear set another world record when he became the first person to fly over Mount Everest by powered paraglider.
He has authored 15 books, including the international best-selling autobiography: Mud, Sweat & Tears.