BBC America (and Eve and Villanelle) invites you to show us how you #LoveKillingEve!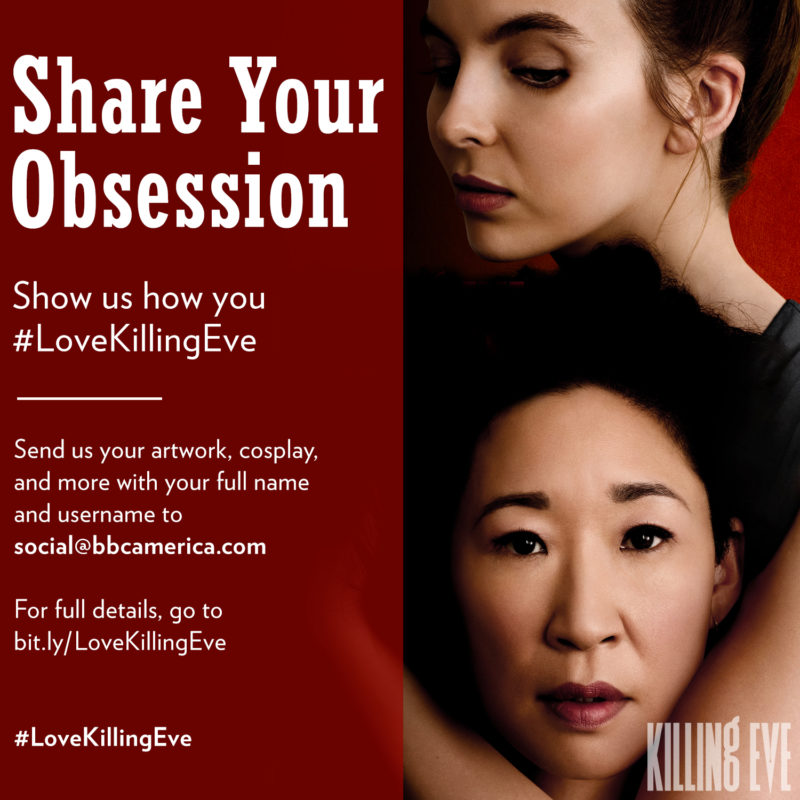 We're looking to see you celebrating your love for Killing Eve. What that means is entirely up to you. Your submission could be a simple video in which you say how you discovered Killing Eve, talk about your favorite character, scene or line, or why you're a fan of the show.|
You could make an animation, a reaction video, recite an original villanelle, re-enact scenes from the show. You could submit a drawing, painting or collage. We'd love to see photos of you in cosplay – anything!
We want to see how you celebrate your love for the show everyone's talking about.
So here's how this works. If you'd like to be a part of this, please send…
-Your full name
-Your username (for whichever social platform you prefer)
-A video message, or other submission that is preferably horizontal, no longer than 10 seconds, no bigger than 20MB, and as high definition as possible to social@bbcamerica.com! (Please do not include background music.)
The deadline for submissions is Wednesday, March 6th 2019 at 12 p.m. ET.
(BBC America terms & conditions apply. You must be a legal resident of the United States and at least 18 years of age to participate. You can read all the legal jargon here.)