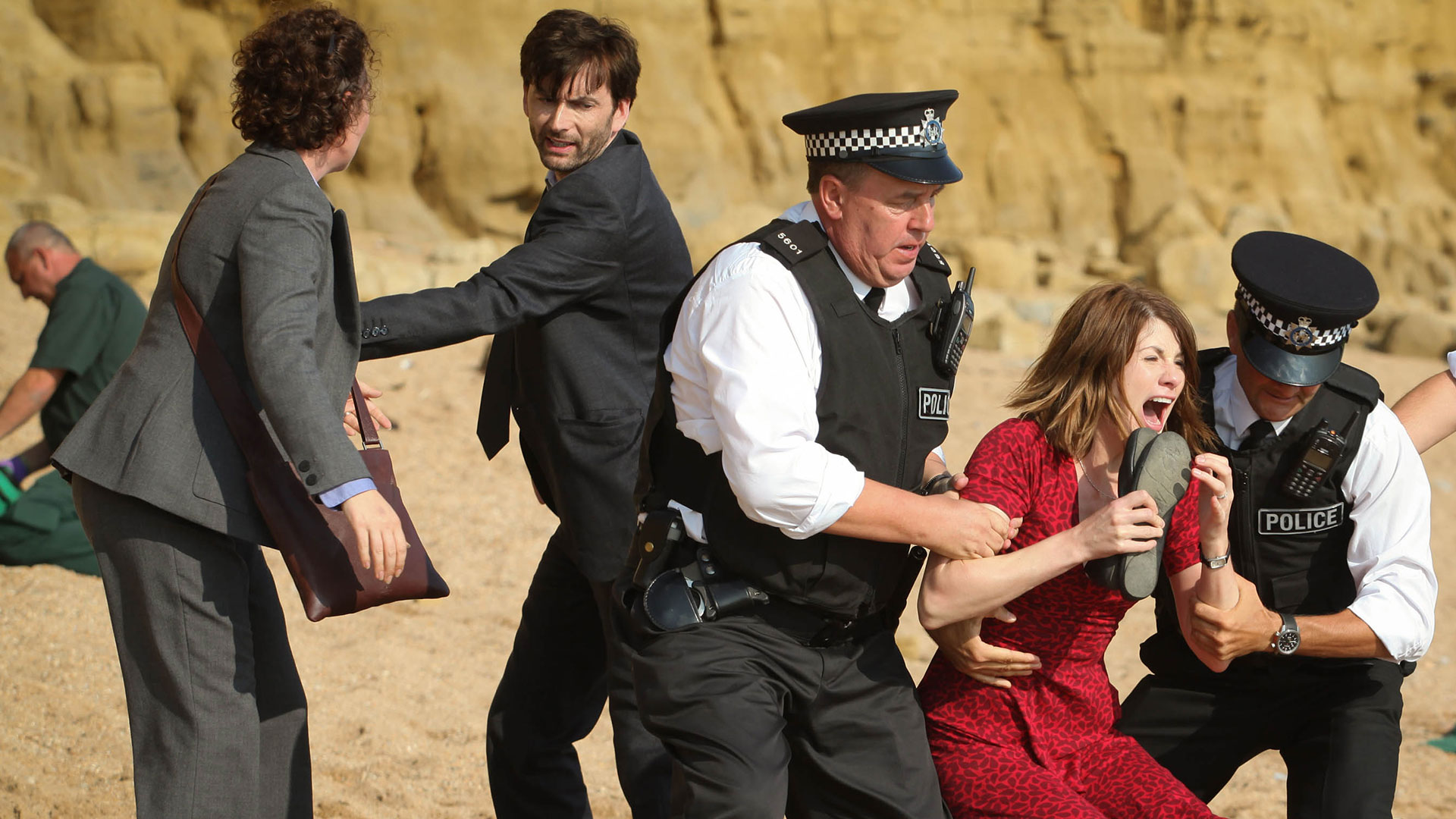 Season 1 — Episode 1
Episode 1
The body of 11 year old Danny Latimer is found on the beach in Broadchurch - local police officers DI Alec Hardy and DS Ellie Miller are called to investigate a case that will change the town forever...
Show Full Recap
Full Recap
It is an early morning in July, and the Dorset town of Broadchurch is bracing itself for the annual influx of holidaymakers. But Danny Latimer – an 11 year old local boy – is missing.
As his mother Beth starts to search frantically for him, local CID officer, Ellie Muir returns to work after a family holiday. But she has a shock in store – the promotion she thought was hers has gone to D.I Alec Hardy - a man she has never met before, an outsider to the town, with a reputation for failure.
Then the call comes through - Danny's body has been found on the beach.
Preliminary findings suggest that Danny's death is suspicious, so Ellie and Hardy must break the terrible news to Beth, her husband Mark, and Danny's sister, Chloe. Hardy believes that Danny must have been abducted, and swears to the family he will find whoever is responsible for Danny's death.
The investigation gets underway, as does the terrible working relationship between Ellie and Hardy – they can't bear each other. She is warm, friendly and engaging, whereas Hardy is without social skills at all. Rude, abrupt, provocative – seemingly determined to make enemies.
Olly Stevens– a reporter for the Broadchurch Echo, and Ellie's nephew – has heard there is a story. Although Ellie stonewalls him when he asks for information, he later sees Chloe at the beach with her boyfriend, Dean, looking very upset. She places a toy monkey by the police barrier, and Dean leads her away.
Olly realizes the dead body must be Danny – and tweets his scoop. The Latimers are incensed, believing the police have released Danny's name without telling them. But the tweet draws the attention of Karen White, a journalist on a national newspaper. She arrives in Broadchurch and heads for the beach. When she gets there, she steals the monkey.
Ellie breaks the news of Danny's death to her son, Tom – who was Danny's best friend. She consoles him, but when she leaves Tom quickly deletes messages from his phone, and wipes his computer hard-drive.
Ellie trawls through CCTV footage, and discovers that a couple of hours after Beth had tucked Danny up in bed, he was skateboarding down the High Street, on his own. Danny wasn't abducted – he snuck out of home to go and meet someone…but who?