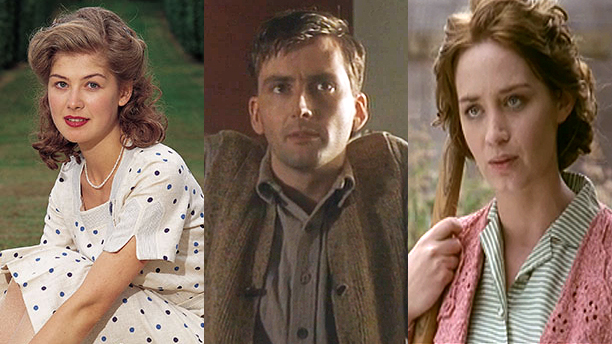 The TV drama Foyle's War—currently available on Acorn TV with its final season premiering in February—occupies a unique place in British TV. It's a fusion, taking the tension and suspense of a police procedural and placing it squarely into a historical context: the Second World War and later, the Cold War.
Starting in 2002, it has proven to be a great launch pad for some very well known British stars, not the least of whom are Rosamund Pike, David Tennant and Emily Blunt.
Rosamund appeared in the very first episode, in a story called "The German Woman," in which we see Detective Chief Superintendent Christopher Foyle (Michael Kitchen) ordered to settle down into his job as a police officer, solving crimes rather than assisting with the war effort. Foyle—a veteran of the First World War—does so with some reluctance.
Foyle is joined by his practical and plain-speaking new driver Sam (played by Honeysuckle Weeks) in the investigation of a murder in Hastings. With emotions running high, the German wife of a rich local landowner has been viciously murdered and a swastika carved into a nearby tree. It's Foyle's job to work out exactly what happened. He meets Sarah Beaumont (Rosamund Pike), the murdered woman's stepdaughter. Although there is no love lost between the two women, Foyle soon discovers that Sarah is only one potential suspect.
As with Downton Abbey now, so much of the emotion in Foyle's War, especially among the more upper crust characters, tends to take place behind clipped phrases and the mask of respectability, and Sarah Beaumont is no exception, particularly when dealing with her widowed father Henry (as played by Harry Potter star Robert Hardy).
The role in Foyle's War arrived at an interesting moment in Rosamund's career. Aged just 23, she had already impressed audiences with her performances in the TV dramas Love in a Cold Climate and Wives and Daughters, and would soon be off to film the Pierce Brosnan James Bond movie Die Another Day.
Rosamund said: "I always wanted to be an actress and it does seem strange to think how lucky I have been. I may have been a bit young and unknowing when I did Wives and Daughters, and I feel amazed in retrospect. Foyle's War was perfect timing as it came at the end of my degree course at Oxford."
This then lead to appearances opposite Johnny Depp in The Libertine (2004), Matthew Macfayden and Keira Knightley in Pride and Prejudice (2005) and then onwards to the likes of Made in Dagenham (2010), What We Did On Our Holidays (2014), and, of course, her breakout role as the conniving Amy Dunne in Gone Girl, a role for which she's received Oscar and Golden Globe nominations.
Curious about Rosamund before she hit the big time? Watch "The German Woman" now for free on Acorn TV.
Read More
Filed Under: