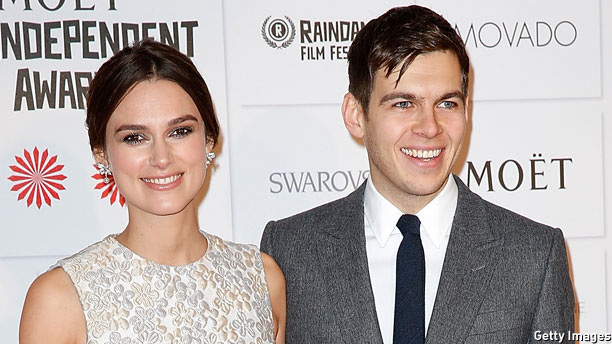 There are multiple rumors and whispers across the internet suggesting that Keira Knightley is pregnant with her first child.
Wonderful news if it's true, but bootee-knitters should be warned that there has been no formal announcement and of course it only takes one interview in which a female star talks about her future plans for a family now that she's happily married (to James Righton of Klaxons) to set tongues wagging. So a pat on the back to Elle UK for managing to get her representatives to confirm the news.
They also confirmed that there will be no further comment, so let's just hold off on the teddy bears and those cards with a stork on the front for the time being.
Still, this lack of firm stuff to talk about does allow us to consider the many and varied British slang terms for pregnancy, including the fine example in the headline above.
Then there's the informal (and slightly posh) preggers, which is interchangeable with pregnant, takes exactly the same amount of time to say and has the same amount of letters. It just sounds chummier. As does drop the sprog, a term for giving birth, and sproglet; a baby.
Up the duff is a relative of in the pudding club, as duff is a term for a type of boiled or steamed pudding; plum duff is a recipe relative of Christmas pudding, if you want a decent example. And these terms don't just come from the swelling mound of pregnant bellies looking, well, puddingy. There's also the 17th century slang use of pudding to mean a penis, so the inference is always to do with things that are ripe and steamy.
Both of these are taken from the same mental source as the more universal bun in the oven too. There's also up the spout, which has a strange origin. It starts with spout being a Victorian term for pawnbrokers, so going up the spout was an act of downward social mobility—going off to put your belongings in hock—a way to describe everything going wrong. Then, possibly due to a confusion with up the duff (and similar terms such as up the stick, up the pole) the term crossed over to mean pregnant, and with a carried-over undercurrent that this is an unwanted pregnancy. So things are still going wrong, whichever way the term is used.
Of course nowadays these terms are all fairly interchangeable without any specific sense of social disapproval. But it's important to note that in British English you would never use the term knocked up or knock up, because that is far more commonly used to mean something that has been thrown together in a hurry, like flat-pack furniture. That's not to say that pregnancies don't happen in this fashion, so you could legitimately say "we just knocked up a baby," but that's a world of confusion for American listeners, so best to steer clear.
See more:
Brit Binge Watching: Five Keira Knightley Roles You Can Stream Online
Keira Knightley Makes (Nearly) Naked Protest Against Photography
Fraser's Phrases: Five British Sayings to Live By
Fraser's Phrases: Five British Sayings to Live By
Read More
Filed Under: