One might think, "Do I really want fast food when traveling?" but, actually, in between sit down meals at say one of The Shard's high-profile restaurants, or the celebrity-soaked Chiltern Firehouse, a quick bite could be just what you need to keep up that go get 'em energy when traveling. It'd be a shame to show up flustered due to a food headache.
Here are some quick service British takeaway spots that might, well, hit the spot:
1. Leon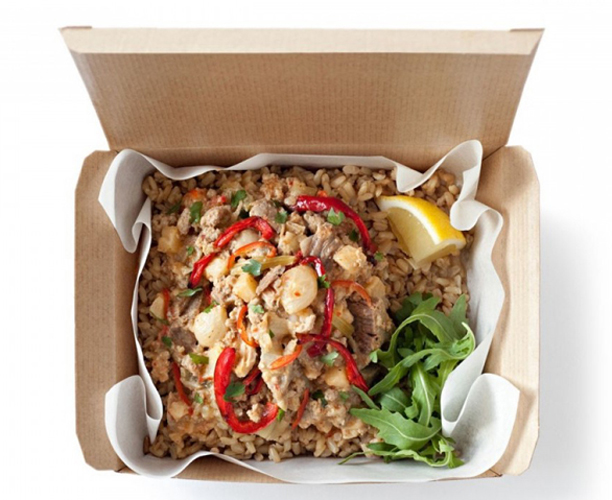 What to expect: Gourmet meals in a box.
Locations: There are too many to list, with 20 spots throughout London including two at Heathrow, which you can find here.
Menu: Co-founders John Vincent and Henry Dimbleby, the guys behind Leon, combine the easiness of fast food and healthiness with their vision: "There is something magical about fast food. Both of us, as children, considered a trip to a fast food joint the biggest treat imaginable." The menu covers breakfast, lunch, and dinner, and the bits in between, with items like a poached egg pot and saucy beans (in a takeaway cup if you like), delectable lunch boxes containing tasty meals like pork chili with apple or ruby mackerel and lentil salad, or a meatball burger with a pot of veggies on the side. Leon also offers a child-size menu.
Must try item: Chicken and chorizo club.
2. Poppies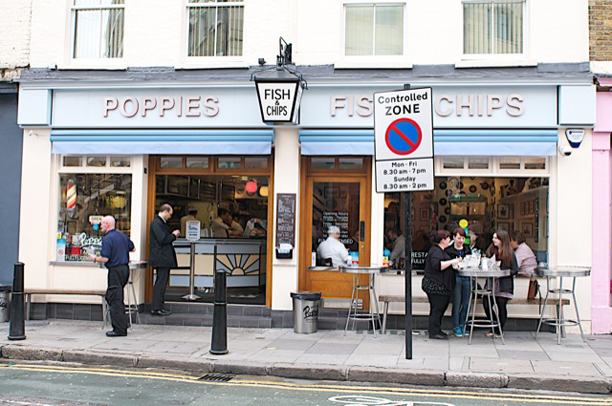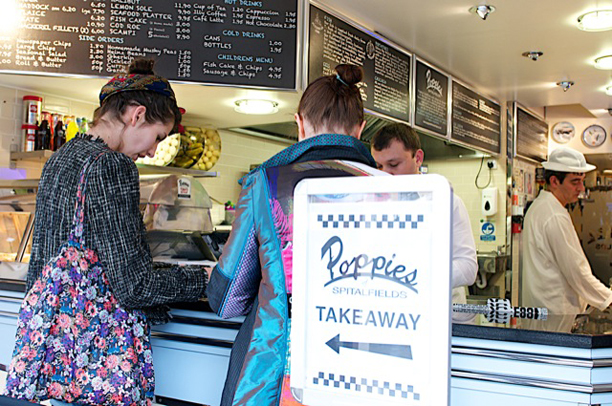 What to expect: Fish and chips with mushy peas. 
Locations: Spitafields in East London and Camden Town in North London.
Menu: Poppies' owner, Pop Newland, has been serving fish and chips in the East End all his life. The menu includes mouth watering fresh fish cooked in crunchy batter, served with golden chips and classic homemade mushy peas. In terms of fish you can choose from halibut, code roe, skate, rock, plaice, and mackerel, just to name some of the options. Side orders include chips (obviously), seasonal salad, bread and butter, Heinz beans, or a pickled egg. The children's menu offers cod bites and chips.
Must try item: Cod and chips.
3. West Cornwall Pasty Company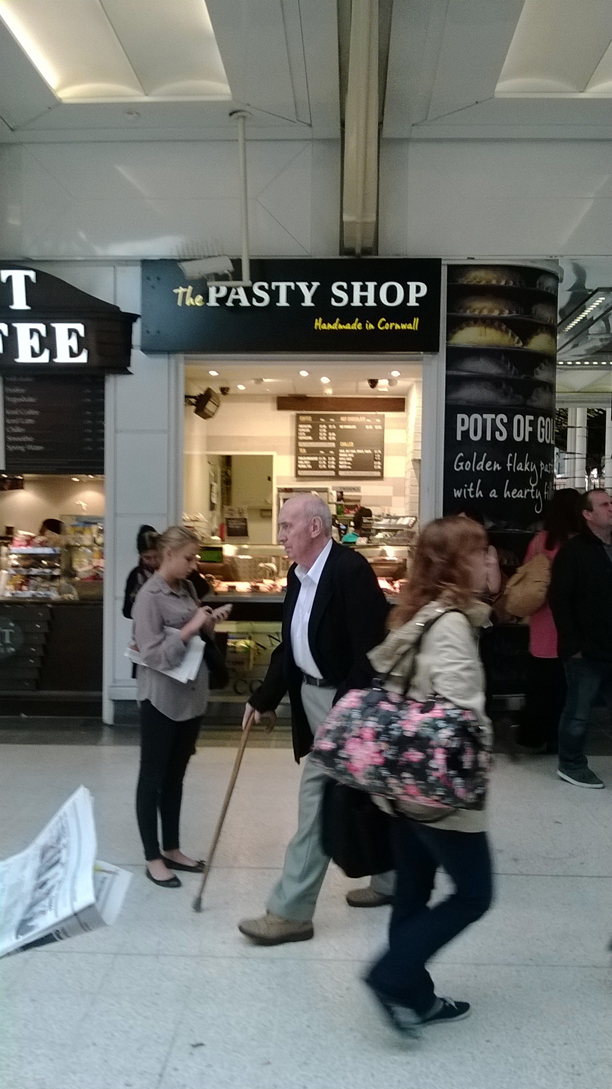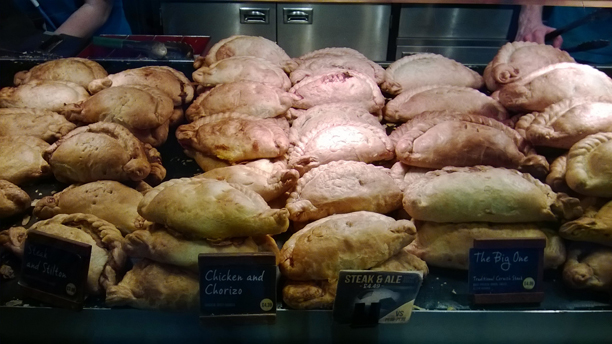 What to expect: Hot pockets.
Locations: Like the name of the store says, the pasties hail from Cornwall, England, but their shops are found throughout the U.K, with 10 spots in London alone.
Menu: The savory pies are filled with an assortment of ingredients including the traditional Cornish pasty stuffed with skirt beef and potatoes, the steak and stilton, chicken and bacon, pork and apple, and lamb and minted peas. The list goes on, which you can find here.
Must try item: Chicken and veggie pasty.
4. Chicken Shop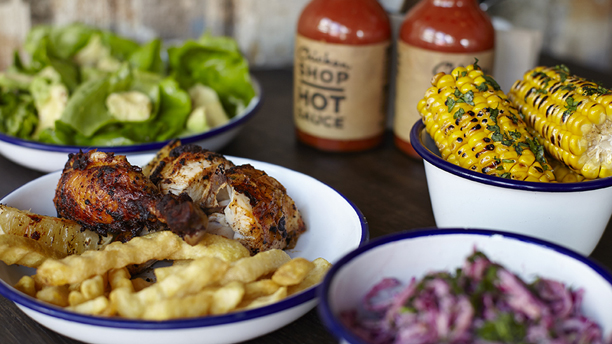 What to expect: Spitfire chicken. 
Locations: The Chicken Shop has four locations in London: Tooting, Kenish Town, Whitechapel, and Holborn.
Menu: You can customize your order depending on how hungry you are, selecting a whole, half, or quarter chicken. The fieriness of your dish can be determined by choosing hot or smoky. Side dishes, like crinkle cut fries, coleslaw, or corn on the cob, will round out your meal. You can also pick up a Dirty Burger at the Whitechapel and Kentish Town locations.
Must try item: Apple pie.
5. Prêt A Manger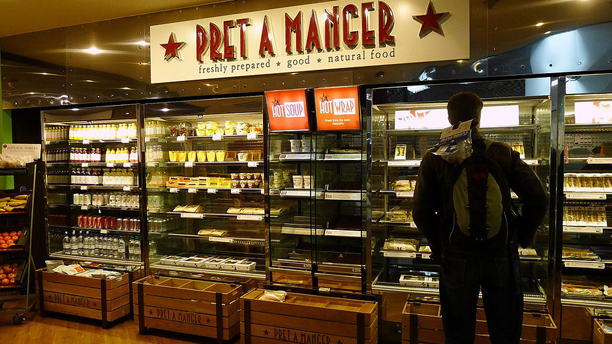 What to expect: All natural. 
Locations: There are close to 300 Prêt A Manger stores in the U.K. including London, Birmingham, Manchester, Glasgow, Scotland and Cardiff, Wales. You can check out all of the locations here.
Menu: Pret is a go-to lunch place for us in NYC, but it originated in London in 1986. College friends, Sinclair and June, sought to make sandwiches avoid of preservatives and chemicals, using natural ingredients. The food found in Prêt is made fresh every day. You can sit and have a quick bite, or take it to go. Here's the menu made up of sandwiches, salads, sushi, and more.
Must try item: Smoked salmon and butter sandwich. 
6. Yo! Sushi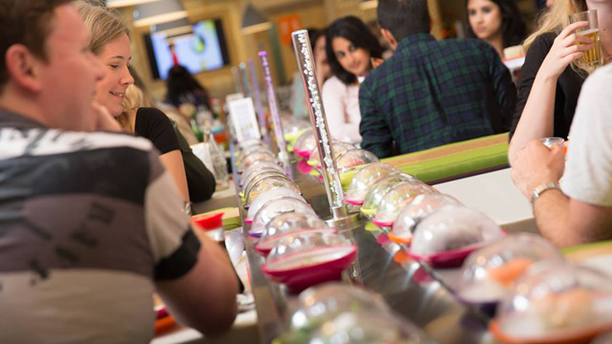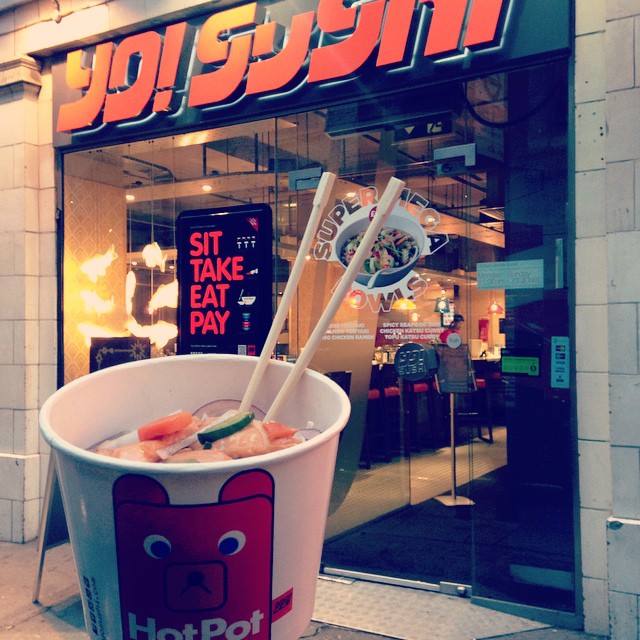 What to expect: Mobile sushi. 
Locations: Yo! Sushi can be found throughout the U.K., with close to 100 stores, and 65 of them being in London. You can check out the locations here.
Menu: The menu includes over 80 dishes including rice and noodles, sashimi, hand rolls, soups, and salads. If you decide to sit and eat at the restaurant, the food will conveniently come to you on a conveyer belt. (Not sure if it's the same deal with the bill.) Or you can get your food tidied up in takeaway containers. Also, you can order online for pick up or delivery, making the experience even faster.
Must try item: Bottomless bowl of miso.
7. Square Pie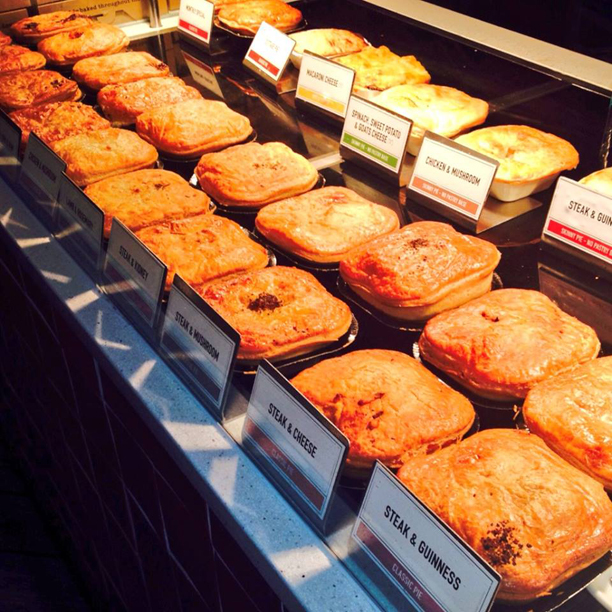 What to expect: Pie squared.
Locations: Square Pie has four shops located in London: Old Spitafields Market, Westfield White City, and Westfield Stratford City. As well, they have a store in Bluewater, Kent.
Menu: The savory, square-shaped pies, come in steak and Guinness, lamb and rosemary, spinach and sweet potato, and more. You can check out the entire list of tasty treats here.
Must try item: Steak and Guinness.
8. Wimpy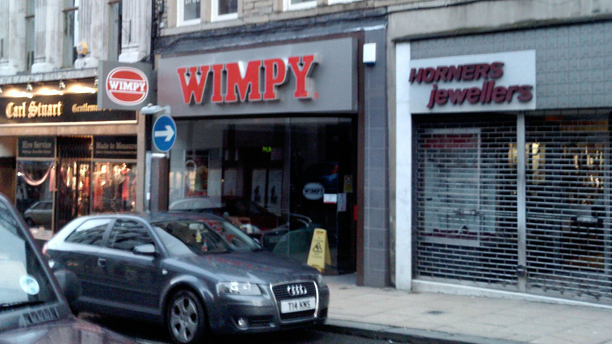 What to expect: Hamburger and fries. 
Locations: The Wimpy franchise has approximately 90 restaurants found throughout the U.K. Opening in 1955, it's the first fast food hamburger joint to make its way to Britain. And, yes, it is named after Popeye's hamburger loving friend J. Wellington Wimpy.
Menu: Wimpy is a British institution that people can rely on, not having changed its menu much since first opening (not even when Ronald McDonald moved to town in 1974). Sure, they serve a traditional English breakfast, maybe a salad here and there, but people really go for the hamburgers. And, the quick service.
Must try item: The Knickerbocker Glory.
9. Tortilla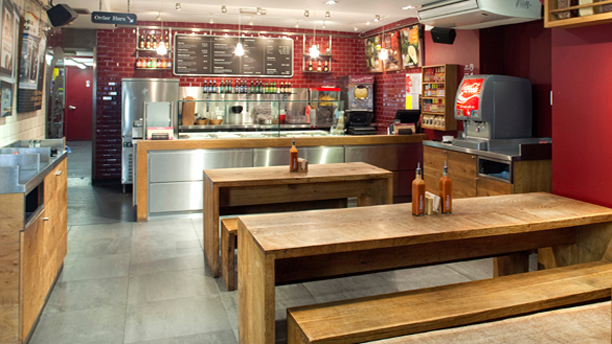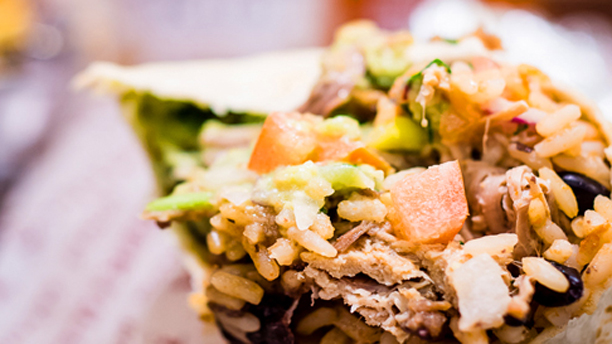 What to expect: Fresh burritos. 
Locations: Tortilla has 12 locations, mostly in Central London, as well as shops in Kent, Brighton, and Leeds, England.
Menu: American expats, Brandon and Jen, searched for burritos like the ones they grew up on in California, and after coming up empty, opened their own burrito shop in 2007. The married couple pride themselves on using fresh ingredients, with all of the burritos and tacos being made in house daily. If you're in a super rush, you can order online for pick up or delivery.
Must try item: Pulled pork, Mexican rice, pinto beans, salsa, guacamole, sour cream, and cheese in a wrap.
10. The Kati Roll Company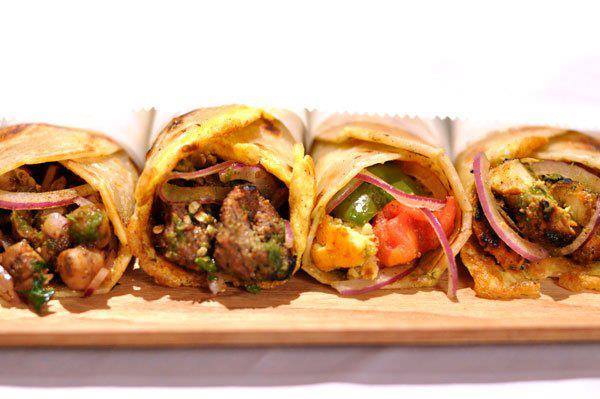 What to expect: Wrapped curry. 
Location: There is only one location, but worth the stop, which is at 24 Poland Street (between Great Marlborough St. and Oxford St.) in London.
Menu: Londoners love their curry, and their sandwiches, and this is sort of curried meat wrapped in a flatbread, which can be eaten while walking. You can't get much more convenient than that. The restaurant provides two helpful sections on their website: "Meet Our Rolls" and "How to Eat a Kati Roll." Now that you've been introduced to the Kati Roll, you can choose between the chicken tikka, grilled beef, or minced-lamb. You can check out the entire list of options here.
Must try item: Chicken tikka wrap.
Let us know how it goes!

See More:
Watch: Think British Food is Boring?
Dunkin Donuts Makes Its Way to the U.K.
10 British Things About Your U.S. City
Read More
Filed Under: