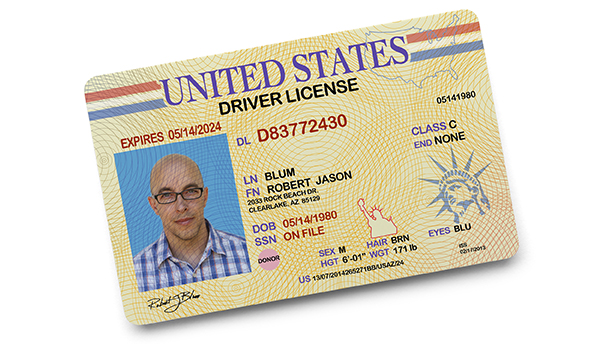 There are many instances in the U.S. where you'll be asked to produce some form of photo ID. When it's just your age that's being verified, a passport will often suffice, although personally, I'd be afraid of losing mine. In other cases, however, you need something that gives your name, date of birth and your street address. Most people provide a state driver's license when asked for ID; if you haven't yet taken your American driving test, you can apply for a state ID card at the same place. Requirements differ from state to state, and many ask that you apply in person if you don't have a Social Security number. (If you want or need a Social Security Number, by the way, here's the government link.)
So, apart from the most obvious situations that require ID (opening a bank account, getting a job), here are a few that may slip your mind:
Getting into bars
Even if you're Methuselah's twin, some bars card everyone as a matter of course. It's often a young employee doing this, to whom everyone over 30 looks ancient, so if you're out without ID and you're obviously over 21, ask for the manager. Try not to be too insulted when s/he doesn't hesitate to give you the all clear!
Buying alcohol and cigarettes
In many large stores, the cashier will ask for ID when selling you booze and swipe your license. If you're uncomfortable with this, shopping at a smaller liquor store might prevent your personal information from being collected, or you can just ask that a supervisor overrides this process and manually enters your date of birth. You can also be asked for ID when buying age-restricted computer games and videos.
Medication
In 2006, the government banned over-the-counter sales of cold medicine that contain the ingredient pseudoephedrine, which is commonly used to make methamphetamine. In other words, when purchasing some cold medications you are required to produce photo ID, and the pharmacist records the purchase. In an attempt to combat the misuse of controlled drugs, some states also require ID when picking up prescriptions.
Getting on a plane
A reminder for most people, but you will not be able to board a commercial plane without producing ID along with your boarding pass or e-ticket. It's also a good idea to make sure the name on the boarding pass matches the one on your ID exactly, just in case they get picky.
Will call
If you purchase anything to be picked up later (such as theatre tickets), you will usually be asked for ID before the goods are handed over.
Picking up kids
As security tightens across the land, many schools, camps and other child-related places ask for ID before releasing a child. Most regular schools don't need parents to produce ID once the school knows them, but many ask that anyone unfamiliar to the administration provide ID when taking the child home. Camps and other institutions that do not know parents personally often require ID from them.
Writing a check
Though checks are headed the way of the dodo, if on occasion you write one in a store you will be asked for photo ID that verifies your name and address. In some cases, when paying with a credit or debit card you'll be asked for accompanying photo ID.
Driving
It is illegal everywhere to drive without holding a valid, current driving license, but some states also have penalties for not physically producing your license if stopped by the police for a traffic violation. In some cases, this is a correctable violation or "fix it" ticket, allowing you to produce ID subsequently and avoid a citation, but it's wise to know your state's unique laws. The requirement to show police your ID in other situations also varies by state.*
Collecting mail and other packages
After waiting in all day for the delivery that never shows, you'll probably need to show ID when picking it up. You may also need to show your street address. (If you don't have your current address on the ID, call and ask if they will accept another proof of addresses, such as bills or checks.)
Solo excursions
This is advice rather than a legal requirement. If you're doing a solo activity such as skiing, boating, even running, it's a good idea to have ID on you just in case anything happens.
So, given that you never quite know when you'll need ID, best to keep it tucked somewhere safe at all times.
*This does not constitute legal advice.
See more:
Interacting with Law Enforcement: What Brits in America Should Know
Tippling Teens: What British Parents in America Need to Know
12 Places to Call in a Stateside Emergency
Read More
Filed Under: