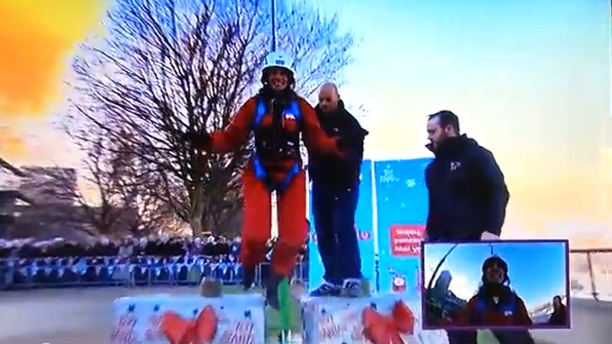 The folks over at ABC had the novel idea of getting together all 11 co-hosts of The View, past and present, as a special send-off for show creator Barbara Walters, whose final appearance is on Thursday, May 15. It will be interesting to see all of the women back on one stage together, particularly Rosie O'Donnell and Elisabeth Hasslebeck, who didn't necessarily see eye-to-eye back in the day.
We expect everyone will be on their best behavior, and things won't get too out of control as seen on the U.K.'s answer to The View, Loose Women. The ITV talk show began in the late '90s, has an all-female panel, revolves around hot topics and guests … but then the similarities veer off, as you can see in these 10 over-the-top clips:
1. Host Andrea McLean does a "reverse bungee" on-air.
2. The ladies discuss the pros and cons to riding a horse in the buff.
3. Hosts Carol Vorderman and Denise Welch argue over PDA.
4. The ladies talk sex toys in Britain.
5. Welch attempts to break a world record, dressing a naked fireman.
6. Host Ruth Langsford forgot she was on the telly.
7. Panelist Lisa Maxwell does side-to-side twerking.
8. Guest John Barrowman pranks the ladies.
9. Jedward twins leave hosts screeching.
10. Panelist Janet Street-Porter calls McLean the b-word (three times).
See what we mean by how the shows differ just slightly? 
See More:
Top 10 U.K. Viral Videos of 2013: Celebrities Letting Loose
10 British Insults Americans Won't Understand
'I Wanna Marry Harry' Reality Show Dupes 12 American Women
Read More
Filed Under: