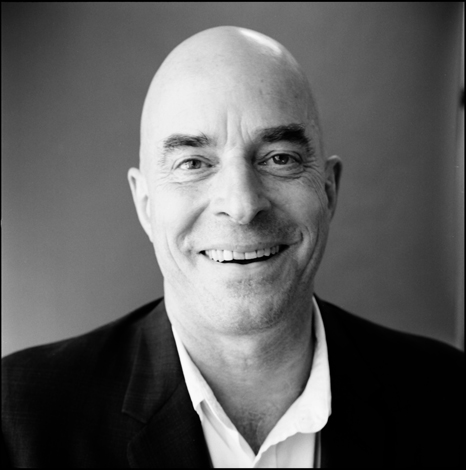 In recent years, the Christmas holidays in England have reverberated to the song "Fairytale of New York" by The Pogues featuring Kirsty MacColl, but The Pogues have an older and more interesting story than their biggest hit single.
In their heyday they toured with U2 and Bob Dylan while spinning traditional Irish music on its head, and Manchester-born James Fearnley was there since the beginning in 1982, bringing his distinctive accordion sound to their unique Celtic Punk/Folk style.
May 1 saw the U.S. release of his autobiographical memoir Here Comes Everybody: The Story of The Pogues, and the book begins as the band, on tour in Japan in 1991, agree that it's time to fire their notorious lead singer and main songwriter Shane MacGowan. After leaving the band himself in 1993, Fearnley rejoined in 2001 and is always on stage when they take short tours around the world.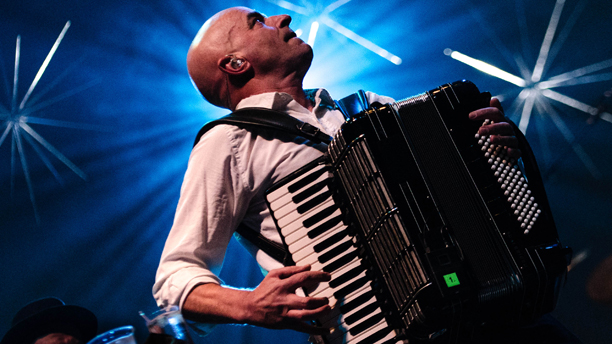 Fearnley—who's turning 60 later this year—moved to Los Angeles in 1989 after meeting his wife Danielle while touring with the Pogues. "It's in the book," he laughs boomingly, his accent still very much intact. "My first daughter was born in February 1993, and after a few months I realized that I would have to hand in my notice to the remainder of the group. I left England after the last Christmas show at the end of a tour of the U.K., and it was quite a send-off. Shane actually showed up and performed with us, and Joe Strummer too."
A few months after leaving the band Fearnley met Zander Schloss, a musician he had met while working with the Pogues on the movie Straight To Hell. Schloss was working with a band called The Low and Sweet Orchestra, and thought that Fearnley and two of his friends, actor brothers Kieran and Dermot Mulroney, might bring "some color" to the proceedings.
"We recorded the album Goodbye To All That, squandered lavish amounts on a couple of attempts to make a video, and then, when it came to a U.S. support tour, basically, split up," he says. "None of the 'color' of the Low and Sweet Orchestra was much keen on spending months in an Econoline, traveling the country. My second daughter had just been born too, and Dermot's acting career had become, again, a priority."
The Mulroneys and Fearnley—plus record producer Brad Wood and "general factotum" Sebastian Sheehan—then carried on as Cranky George. "We formed from hootenannies we had at either Dermot's house or mine, or, once or twice at Melissa Etheridge's and Brad Pitt's," he says, and despite this "Hollywood" sprinkling the members are all serious musicians, and play rollicking, loud gigs around town (when schedules allow).
However, fans are still waiting for the long-promised album: "The matter of priorities—jobs mostly, families, et cetera—has, for a long time, stretched our activities into the thinnest of fibers, with lumps of, I don't know, recording here, gigs there, rehearsals elsewhere." (He has been a guest musician on albums with Talking Heads, David Byrne, Steve Earle, Julia Fordham and Etheridge).
Describing it as the "gentle downward gradient," he began to rededicate himself to writing songs and prose, and he visits the Local 47 rehearsal rooms on Vine Street in Los Angeles with his suitcases of instruments (he also plays guitar and mandolin) and "bangs out new material, which has been fun."
A keeper of journals and tour diaries, he had been going to an autobiography-focused writers group for 15 years, and found that "Shane MacGowan started to appear more and more often. After a time, he brought his friends, and the next thing I know, I've got a chapter here and there."
After getting some advice and help he sent the idea to his agent, in Oxford, England, who then went to a publisher in the U.K. "I missed one deadline, I think, or lost counting at one, and I submitted, a little late, at 145,000 words. 'Take out the bits that make you look like a knobhead,' was the only note."
His next draft came in at 125,000 words. "I remember, on more than one occasion, smiting myself in the face, until the reading glasses hung from one ear and my cheeks smarted, and crouched with my face in my hands, bleating, 'I can't do this! I can't do this!' But, if you don't go away from it, it gets done, eventually."
Missing the thrill of performing live doubtless had something to do with rejoining the Pogues, who had split (seemingly for good) in 1996, only to reunite in 2001 for Christmas tours in the U.K.
"The 'serial reunion' tours can pretty much described a bell curve, the peak of which was probably in 2006 to 2009," he says. "Since 2010 it was Christmas tours but also regular festivals in France, Germany and Norway, and not-so-regular festivals in Croatia, Belgium, Holland, plus a tour in Australia in 2012. At the top of the dome of the bell curve, our years were full of tours of the United States. Most of a week in New York City, most of a week in San Francisco, fairly regular tours of Japan and Germany, Norway…"
The famously unreliable MacGowan seems to hold the key in relation to whether a tour happens or not, and new material might be a long time coming.
"A few years ago, Shane said he had written 50 songs," Fearnley says, "but the process never got any further than the rather ponderous etiquette of afternoon tea at Spider's flat in London with Shane, Jem and Spider."
Nevertheless, these tours gave Fearnley a useful habit.
"I swim every day now. I had to get fit for the first Pogues reunion, and have kept up the routine," he says. But, he adds that his day also involves having his bottom on the chair for three hours.
"Like many writers it seems, I also take a nap at 1:30," he says. "In the afternoon I faff around, doing research, play the piano or guitar, write songs, go to Local 47, meet up with people in the music industry, or apply my bottom to the chair, for other purposes than leaving evidence of actually having done a stroke of work."
The U.K. tours also come with an extra benefit: he gets to see his family on a regular basis. "I was fortunate to spend quite a bit of time with them last November and December, for Bonfire Night and in the days running up to Christmas. There's an atmosphere in England, during that period, which is entirely unknown in Los Angeles."
The fact that Christmas lasts "24 hours, if that," is one of his warnings for new Brits arriving in the U.S., the second is that the novelty will eventually wear off, and the third is a Los Angeles-specific tip.
"Your indicators [flashers] don't indicate anything, but should be regarded as invitations to other motorists to try to prevent you doing what you'd like," he says.
Admitting to indulging in "a certain nostalgia and homesickness, which wouldn't have been quite so morbidly enjoyable if I had stayed in England," he misses the "apprehensibility, size, community, radio, irony, changes in weather, pubs and public transport" in the U.K, and he says that most new Brits ask about the huge food portions in America.
"When he visited, my dad was appalled at the size of a tuna salad sandwich he was expected to eat in less than a week," Fearnley says. "He was incommunicable for the rest of the afternoon."
He does get asked about The Pogues, of course—"or mainly about Shane"—and is amazed that people think they were an all-Irish band (they were formed in London, and were almost all English).
"I suppose it's understandable," he admits. "Stiff Records, our original label in the 1980s, did their best to market us by means of Irish popularly-cultural touchstones. Promo items included a shillelagh, a pub mirror, a bit of shamrock in a plastic jewel-case, a picture sleeve—get this—in the shape of Ireland, with the map on one side, and on the other, a picture of a farmer wheeling the farmer's wife in a wheelbarrow."
One of the long-term members of the band, Philip Chevron, died last year, and Fearnley mentioned that was one of the lowest points for the band: "We've lost friends, too many, really, in the past 30 years."
There were some odd moments too, like when he learned his ancestors were Vikings: touring in Norway, he found six pages of Fearnleys in the Oslo telephone directory. And there were some big highs, like the moment when Fearnley felt that The Pogues made a difference.
"There was the release of the Birmingham Six and Guildford Four, on the one hand," he says, "and emails, letters, and Facebook messages that I have received [from fans], declaring how what we did changed their lives in some way. Our music has been present at births, deaths, prolonged illnesses, birthdays, anniversaries, retirements, marriages—and at the fertilization of at least one female human egg, probably more."
As for the future, he is setting off on a tour to support the book—stopping for a festival with The Pogues in Italy—then more book duties before returning to Los Angeles. Summer will see more touring with The Pogues (including at Hyde Park in London), and then it's a smashing birthday in October.
"For my birthday I have asked my wife to get hold of an old sideboard which we'll station in the garden," Fearnley says. "Guests to my birthday party will be asked to bring items of old crockery, which we'll place on the shelves in the sideboard. It'll be a dollar or something for three wooden balls to throw at the crockery, until it's all in shards. The money I'll give to charity."
Here Comes Everybody: The Story of the Pogues is released by Chicago Review Press, and book tour dates can be found at James Fearnley's website and information on The Pogues at their official website.

See more:
The Ultimate Expat's Library: Books for Brits in America
Read More
Filed Under: