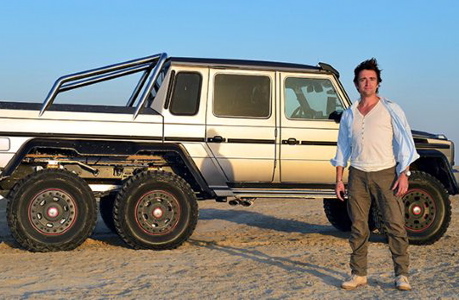 "I'm not going to pretend that this is anything but a preposterous machine," said Richard Hammond of his extended test drive of the brand new Mercedes-Benz G63 6×6 on this week's show. The car—though you might be tempted to refer to it as a tank—has six wheels, is almost four tons and costs more than half a million dollars. According to The National, the United Arab Emirates' English-language newspaper, it turns out that it's just the kind of car—absurdly enormous and staggeringly expensive—that's likely to be really popular in Dubai, where Hammond tested it. And when we say he tested it in Dubai, we mean he drove it up and down impossible sand dunes and even in the flowing rivers of a water park.
"It's one of the car world's mad moments," said Hammond—and you can watch the madness yourself, Monday March 3, at 8:30p/7:30c. "Even in a country so chock full of showy-offy cars, it's still really rather special."
• Also on episode 4 of the new season, James May earns his nickname of Captain Slow as he test drives two models of the Caterham Seven and picks the one that doesn't go insanely fast—the one that doesn't go from zero to 60 in two seconds. Or in other words, the one that doesn't accelerate to sixty miles per hour in the time it took you to read this sentence. Here's what May has to say about it:
• But there's still more to next week's episode. Comedian/actor/TV host Jack Whitehall stopped by to be the Star in the Reasonably Priced car. Here's a special behind-the-scenes sneak peek, courtesy of TopGear.com:
And here's BBC AMERICA's sneak peek at the episode:
• We told you last year about Richard Hammond's guest spot on the popular kids' TV show Phineas and Ferb. You can see the actual result, in which he's joined by his co-hosts Jeremy Clarkson and James May, this Saturday on the Disney Channel. (We haven't heard anything about The Stig.)
In the episode, called "Live and Let Drive," the cartoon's regulars travel outside the tri-state area to the city of Duchy in Montevillebad. That's where they encounter the Top Gear trio, under the names Adrian, Ian and Nigel, as Grand Prix commentators, according to TopGear.com.
Here's Richard with one of his animated colleagues from Take Two With Phineas and Ferb:
• James May has helped to kick off the building of what is expected to be the most powerful steam engine in the history of British railways. May went to the North East to Darlington, a town with a deep historical connection to trains—Darlington was a key city in world's first passenger rail line in 1825. Last week, the Top Gear host, cheered on by engineers and train enthusiasts, built the first piece, called a smoke box dart, of the new locomotive, which will be called the Prince of Wales and will cost an estimated £5 million ($8.3 million). A smoke box dart helps to keep the engine's smoke box door closed—and now that James has completed it, there's an expected 100,000 more hours of labor needed to finish the rest of the locomotive.
"Not many man-made machines stir the soul, but a full-blown steam locomotive is right up there, and we invented it," May told the Northern Echo. "However, over the decades we've lost so much of the talent, skill and knowledge needed to build them. That's why it's such a thrill … not only resurrect this monster from the past, but to improve it using modern wizardry to do so. It's a real privilege to know that when Prince of Wales eventually roars past me at a station, I can proudly say, along with many others, that I helped build that… and it works!"
May's fascination with trains is well known. An earlier steam train project by the Darlington Locomotive Works, the Tornado, was featured on Top Gear a few years ago and was the genesis behind May's involvement in the Prince of Wales endeavor. James is also known for his show, James May's Great Train Race, which is about toy train racing challenges. And in his web series, Head Squeeze, James took on the question "Why Can't Trains Go Uphill?"
• Finally, as part of your preparation for watching the Academy Awards on Sunday night, you might want to salivate over a few of the cars from The Wolf of Wall Street, brought to you with loving kindness from TopGear.com.
Read More
Filed Under: