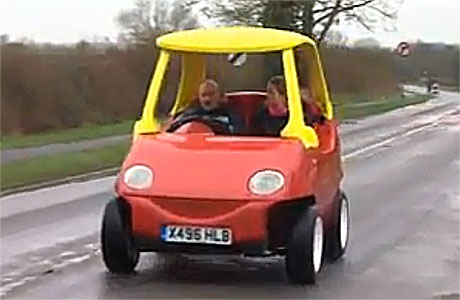 Ever looked at a child's toy and wished they made a bigger version for grown-ups? Be honest, you have, I have and so has your best friend's dad.
So we should all doff our caps to John Bitmead, from Oxfordshire, who spent £4,000 taking a Daewoo Matiz and converting it to look exactly like a Little Tikes Cozy Coupe. And that means no windows, red plastic bodywork, and a massive cup-holder.
John, his brother Geoff, and friend Nigel Douglas spent five months on the conversion, and their creation is fully roadworthy, even on British motorways, has a 800cc engine and can reach a top speed of 70mph.
http://www.youtube.com/watch?v=Bnw5lpyMYBU
John told Metro: "We were chatting one day about how more people have probably driven a Cozy Coupe than any other kind of car – and it snowballed from there.
"I love setting myself a challenge, and once I'd got the idea in my head, I was determined to see it through."
Although if you fancy something similar yourself, you may wish to think carefully about where to drive it, as John explained: "We took it on the motorway once, but I'm too scared to do it again in case we cause an accident."
And that would require grown-up boo-boo plasters and some fairly massive cookies.
See more:
Top Gear Thursday: Show Fan Builds McLaren F1 with Only $32,000
WATCH: The London Underground Sings Blur
10 Best 'Top Gear' Moments of 2013
How To Open A Bottle Of Wine With A Shoe
Read More
Filed Under: