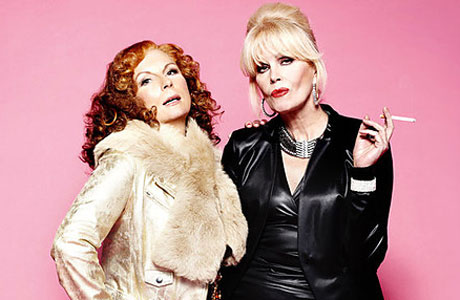 Now here's a thing we should have put in our things to look forward to in 2014 post. Jennifer Saunders has confirmed that she is working on an Absolutely Fabulous movie, and what's more, if she doesn't do it, she has to pay her comedy partner Dawn French £100,000.
Speaking on the Jonathan Ross show over the weekend, Jennifer revealed that she has been coerced into finally completing a script for the long-rumored movie, partly by Joanna Lumley, who can't wait to take Patsy out for a spin once again, and partly by Dawn, who bet her that princely sum (about $160,000) because she knows how much of a procrastinator Jennifer is.
So pro she can't even remember her early days as an amateurcrastinator, as this clip confirms:
Also, subtitles? Really?
So, while this story contains the definite whiff of triumph and a real thing actually happening, let's not commence holding our breath just yet, shall we?
See more:
'Doctor Who,' 'AbFab,' 'Sherlock' and More Hit Hulu in Landmark BBC Worldwide Deal
'Girls' Creator/Star Lena Dunham: British Television Has Shaped Me
More 'AbFab' on the Way?
Joanna Lumley is Taking Patsy to the Grave
Read More
Filed Under: