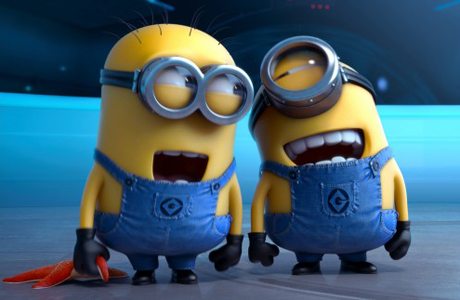 Even with the proliferation of video games, online streaming and various other newfangled forms of entertainment, Brits still like going to the cinema.
That's the conclusion to be drawn from anewly released report by the British Film Institute that sums up box office and attendance figures for movie-going in 2013 in the U.K. and Republic of Ireland.
The report makes for fascinating reading, even if a tad dry and numbers-packed, offering a glimpse into the cultural tastes of British and Irish citizens last year.
"2013 marked the third consecutive year that the overall U.K. box office crossed the £1 billion barrier ($1.65 billion), though total takings were down 1 percent on the previous year," according to the report. Some 165.5 million tickets were sold, a figure that represented a 12 percent drop from the previous year (when the James Bond film, Skyfall, packed 'em in). 
While impressive, the U.K. and Irish numbers are dwarfed by the box office take in the U.S. and Canada. Moviegoers on this side of the pond forked out $10.8 billion at multiplexes in 2013, according to Box Office Mojo, up a tiny 0.8 percent from the previous year. Total tickets sold, however, fell to 1.36 billion, a drop of 1.3 percent from 2012.
For big budget, Hollywood-backed films, the five most popular titles in Britain, in order, were: Despicable Me 2 ($78 million), The Hobbit: The Desolation of Smaug ($68.6 million), Les Misérables ($67.3 million), Iron Man 3 ($61 million), and Frozen ($56.3 million).
Of greater interest is the Top Five list for the local independent films. In the No. 1 position was Philomena, the Judi Dench-Steve Coogan drama currently in theaters and which has been nominated for four Oscars, including Best Picture. As of mid-January, it had grossed an impressive £10.79 million ($17.79 million) in the U.K. and Ireland.
Rounding out the indie list, in order, are the Maggie Smith comedy, Quartet ($14.2 million); the romantic comedy starring Rose Byrne and Rafe Spall, I Give It a Year ($10.25 million); the movie spin-off featuring Steve Coogan's popular sitcom character, Alan Partridge: Alpha Papa ($10.2 million); and a musical showcasing songs by the Scottish rock duo, The Proclaimers, called Sunshine on Leith ($7.6 million).
Coogan fans will be pleased to note that, with the No. 1 and No. 4 films on the 2013 indie list, he's a shoo-in for the always hotly contested title of Indie It Boy for the year.
How many of the British indies on the Top Five list did you see?
See more:
WATCH: Steve Coogan, Rob Brydon on 'Trip to Italy,' Celebrity Reactions to Their Impersonations
Dame Helen Mirren, What Are You DOING?
The Sky's The Limit: 'Gravity' Leads 2014 BAFTA Nominations
Read More
Filed Under: