It's hard to winnow down the craziness of another year of Top Gear to just ten moments, but the exigencies of end-of-the-year roundups gave us no choice but to attempt the task.
1. The Africa Special
This year, Jeremy Clarkson, Richard Hammond and James May took a trip to Africa, and the result was the series first-ever two-part show. In it, the three guys go on a search for the source of the Nile, while driving only used station wagons.
"We went to Africa, filmed what happened, and then when we'd completed the first cut it was running at 2 hours 15 or something ridiculous," executive producer Andy Wilman explained on the show's blog.
"We set about trimming back, Wilman wrote. "Cutting stuff is good to a point, because you're invariably getting rid of excess fat, but keep going and eventually you're slicing into muscle, sinew and bone, and the story starts to suffer." And so, there are now parts one and two.
2. "Rue Britannia"
For the finale of Season 20, Top Gear organized a parade of cars to represent the best of British engineering. The procession drove past Buckingham Palace and down London's famed Mall. The Mail called the Top Gear shoot "the most expensive traffic jam in history."
3. British Stars in Reasonably Priced Cars
2013 saw British actors well known to Anglophenia audiences taking spins around the Top Gear track – and one, Benedict Cumberbatch, even took a swing at Jeremy Clarkson – just to show that he learned "Hollywood Fu," or the basics of screen fighting.
Another omnipresent thespian, James McAvoy, also visited the show. His driving was even more impressive, given that he's only had his drivers license for three years or so.
4. New Reasonably Priced Car
2013 was the year when Top Gear said goodbye to the Kia Cee'd as the Reasonably Priced Car. For five seasons, Cee'd had transported celebrities such as Tom Cruise, Cameron Diaz, will.i.am, and Rupert Grint around the show's track, but the baton was passed several months ago to the Vauxhall Astra Tech Line, a popular small family car in Britain.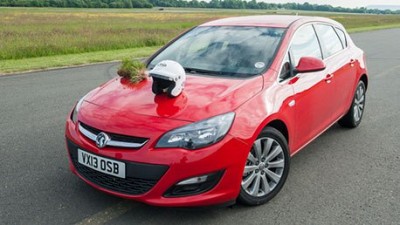 5. Top Gear's U.S. Road Trip
Clarkson, Hammond and May drove some very fancy cars (a Lexus LFA, a Dodge Viper and an Aston Martin Vanquish, respectively) in a race on American soil. As in any Top Gear challenge, audiences knew to expect the unexpected, including cops, a mad dash to the Mexican border and airstrikes.
6. Small is Beautiful
Jeremy Clarkson designed and tested a car he believes to be the smallest vehicle in the world. He calls it the P45, and the Beaulieu National Motor Museum in Hampshire added to its collections this year.
7. The Hovervan
Top Gear continued to look for solutions to problems most people never really thought about. Like how come there's no such thing as a hovervan? Of course, Top Gear created one – so that vans can still get around in heavily flooded areas.
8. Forza Motorsport 5
Just when it appeared that no one would ever buy the new Xbox One, Top Gear stepped in to save Microsoft from total ruin, with a new version of Forza Motorsport, into which Top Gear even managed to insert The Stig's digital cousin.
9. Top Gear Fulfills Singer's Dream
Scottish singer and car enthusiast Amy Macdonald has always wanted to be on Top Gear, and this year, she saw her dream come true.
10. Other Stars Also Dream of Top Gear Appearances
Yes, Amy Macdonald finally got her wish, but not all celebrities are so lucky…yet. Just last week, Steve Carell admitted that he's always wanted to be a Star in a Reasonably Priced Car. And a few months ago, Adele – on the day she got her drivers license – said that she too wants to be on the show. Perhaps they – and the rest of us – will have something to look forward to in 2014.
 ————————————–
What were your favorite Top Gear moments of the past year?
 ————————————–
Read More
Filed Under: