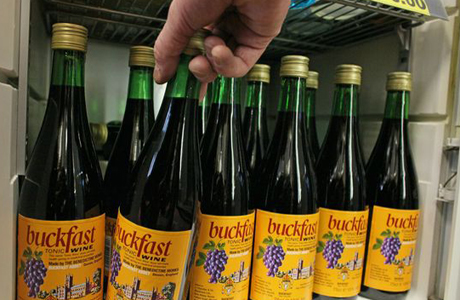 We're leading up to New Year's Eve and people are picking out their outfits, finalizing plans and possibly strategizing on how to not drink too much before the clock hits midnight, so they can ring in the New Year properly.
It's all about quality not quantity, right?
A group of wine-brewing monks in Scotland are asking their customers to keep this in mind, in not so many words, but their wine is meant to be sipped, savored and not consumed in mass amounts.
Apparently over the past three years, from 2010-2012, their biggest seller Buckfast Tonic Wine has been mentioned in 6,496 crime reports in Scotland, according to the U.K. Express News.
We admit, that is quite a lot. We're guessing it tastes good, it's not as expensive as other alcohols like Jameson and is readily available. The monks of Buckfast Abbey in Devon, England are not happy with their wine getting the blame.
We picture some young lads getting into trouble and being interrogated by the police, threatening to call their mums, and the guys saying, "It was the monks! The wine made us do it."
The monks have been in the wine-making business for over 100 years with their message saying, "Three small glasses a day for good healthy and lively blood."
Abbot David Charlesworth of Buckfast Abbey opened up to BBC News for the first time on this topic to talk about the issue simply saying, "We don't make a product for it to be abused."
The Abbot doesn't want their product to be associated with "drunks" and "broken glass" found on the street.
Buckfast represents 0.5 per cent of Scottish alcohol sales, according to the Scottish government, reports the Express.
The Abbey has been very successful in their fundraising, bringing in £6.6m from their business ventures, with the wine being the most profitable. The monks find it unfortunate that their product is being associated with crime.
The local police force is debating putting "anti-crime" labels on the wine bottles and the monks have even heard talk of banning the wine all together.
Do you have any suggestions for the New Year that may bring a solution?
See More: 
Five British Rockers Who Have Their Own Beer
Sunday Roast in a Bottle
A New Year's Guide to British Booze
Read More
Filed Under: