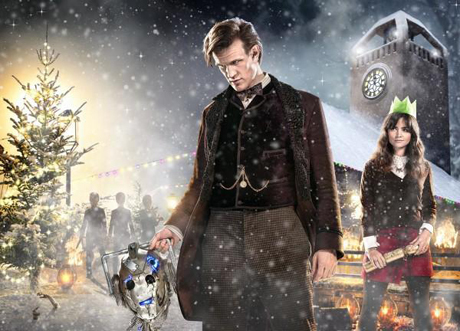 We now have a day to go before the events at Trenzalore play out in full, the Doctor dies, his time-stream is left behind in the shattered remains of his TARDIS and yet he also somehow manages to regenerate and walk away a different being.
But not before this happens:
Or this, come to that:
We do not yet know how these events will come to pass, and undoubtedly in about a day's time there will be a certain amount of delighted, not to mention heated discussion going on, online and in living rooms all over the world.
So, before everything changes, let's just have one last final look around Matt Smith's Whoniverse, before the other fellow comes along and we have to start all over again.
We've spent much of the past week paying tribute to Matt. We have pointed out:
• Why he was born to play the Doctor
• Some of his greatest moments of oratory
• Five moments when he made us laugh
• Five moments when he made us cry
• Five moments when he made us a bit scared, truth be told.
And we pointed out one element of his success as the Doctor that simply doesn't get the credit it deserves.
Needless to say, we were not alone in making these assessments.
• What Culture did the whole of Matt's tenure in gifs.
• And a roundup of their favorite stories.
• Metro picked their favorite 11 Eleven moments.
• Radio Times polled their readers to find out which Eleven story they liked the best.
• And, taking a wider view, Den of Geek reviewed 50 years of Doctor Who in 50 screengrabs.
• Here's a BBC Breakfast interview with Jenna Coleman about "The Time of the Doctor," in which she says "That day where we had those words to say, those wonderful beautiful words that Steven [Moffat] has written, we were just trying to avoid them for as long as possible and not wanting to look at the scene because it's so beautiful and sad."
• Ten things that prove Doctor Who really exists.
• But it's not just Matt Smith's last story, it's Christmas! And we all know what that's about, don't we Strax?
• The Mirror put up a summary of Doctor Who Christmas specials.
• And did someone mention turkey?
• And, taking the regeneration theme and running with it, YouTuber 1981Timelord has added a little extra bit to the War Doctor's regeneration, so that the Ninth Doctor can take part in the 50th Anniversary after all:
• And because it's Christmas Eve, and we're feeling festive, here's our own Gallifreyan Christmas carol.
So, next time we all gather together, there will be a new Doctor in the TARDIS, so let's enjoy the final hurrah of Matt Smith while we can, with a suitably festive song from Legs Nose Robinson:
http://www.youtube.com/watch?v=7MmcJlnGWZw
TTFN, Mr. Smith, and Merry Christmas to everyone in all knowable universes!
For more galleries and features, visit the Doctor Who website on BBCAMERICA.com.
Read More
Filed Under: