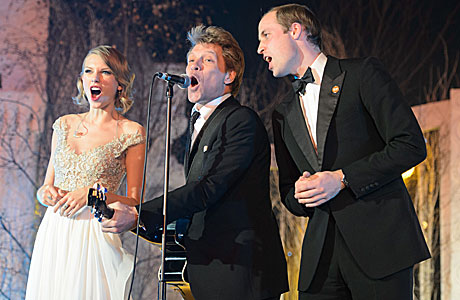 If you wait long enough, every possible combination of famous people will eventually do something collaborative on the internet. It could be Kanye West, the Archbishop of Canterbury and Homer Simpson, it could be Jennifer Lawrence, the song "Get Lucky" and the McDonalds golden arches, but eventually it will happen.
And never has that tired old maxim about monkeys, typewriters and Shakespeare been more soundly trounced by this little nugget of news, in which Prince William appears on stage next to Jon Bon Jovi, to sing a version of "Livin' On A Prayer" accompanied by Taylor Swift.
Look, it's not even a parody:
This surprising turn of events took place at Kensington Palace last night, during the Winter Whites Gala in support of the homeless charity Centrepoint. Other performers included Benedict Cumberbatch, Tinie Tempah, and James Blunt.
And to complete the circuit of spiralling meme oddness, the prince even offered to do a little twerk, if Olivia Sabat, who was also performing, is to be believed.
She told the Mirror: "He was like: 'would it put you off if I was dancing?' and I said 'no, I want you to listen – dancing and listening.'
"And the prince said 'yeah that's fine' and then he started doing a little twerking.
"I said 'no thanks, no twerking thanks!'"
Sadly the video of this moment does not appear to exist.
See more:
PHOTOS: Andy Murray Receives Officer of the Order Medal
PHOTOS: Buckingham Palace Hosts Soccer (Football) Match
Memorize the Last 1000 Years of Monarchs with a Song
Prince William to Star in TV Series
Read More
Filed Under: