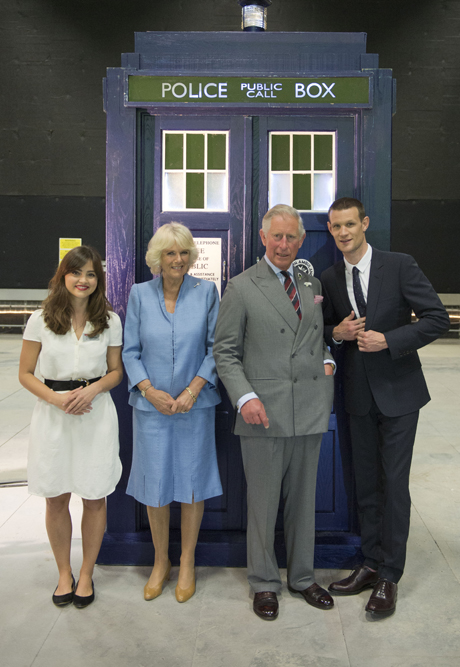 There was a lovely interview with Jenna Coleman in the Guardian over the weekend, in which she reveals, among other things, that the true global impact of Doctor Who wasn't really brought home to her until she attended this year's Comic-Con, that she has spent a lot of time as an actress wondering where her next job is going to come from (although clearly that's less of an issue these days), and that reading the script for Matt Smith's final episode of Doctor Who was such a traumatic experience, she had to ration herself:
"I just read the script the other night," she says. "I'd been putting it off for ages and ages, because once you read the last page, that's it, the story is over. So I read 10 pages on the tube and I stopped, and then I picked it up again the other day and finished it.
"I was an absolute mess, an absolute wreck. But it's good; it's sad, but it's what needs to happen. It's perfect."
She also explained that she found out that Peter Capaldi is the next Doctor while in the middle of showing some royal guests around the TARDIS.
She said: "They told me and Matt when Prince Charles and Camilla came to the set. We were both: 'Ahhh, of course.'
"It takes you a few moments – I don't think he was on any of the original lists. People were talking about Rory Kinnear and people like that, but as soon as you say it, you're like: 'Of course.'
"As Steven Moffat said: 'He's the Doctor.' And it's brilliant that we've gone so different from Matt."
As for her own future in the show, well, she's clearly enjoying herself far too much to want to move on just yet:
"Doing Doctor Who you're on a cloud, doing stunts, being dropped in gloop. Then suddenly you stop and I'll be walking round thinking: 'Real life is actually a bit boring.'"
See more: 
'Doctor Who's Day Roundup: What Happens At Comic-Con…
Matt Smith and Jenna-Louise Coleman's 'Doctor Who'-and-A: Full Transcript
So Who Is Jenna-Louise Coleman, the New 'Doctor Who' Companion?
Read More
Filed Under: