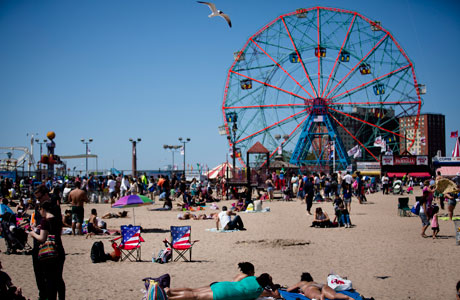 Nowhere in America is an exact replica of any place in the U.K., architecturally or otherwise. But some spots provide a look or atmosphere that will remind you of home without the inconvenience of actually schlepping back to Blighty.
New York, NY = London
It's a bit of a cliché to compare these two urban behemoths, but there's no getting away from their similarities, especially for anyone looking for the archetypal big city break. They're both home to some of the finest restaurants, theaters and shopping districts on the planet. And some of the most abrupt, delightfully weird people you'll ever meet.
Coney Island, NY = Blackpool
If you enjoy promenading, ice cream in hand, ducking from over zealous seagulls, chances are you've holidayed in the north of England's most famous seaside town. Brooklyn's best-known beachfront is a very similar arrangement. For starters, they both boast too many shops stocked with buckets, spades and unpleasant ornaments made of shells. If it's Blackpool's Pleasure Beach that attracted you to the town, then fear not: Coney has it covered. Amusement parks jostle for your attention, each housing rides more terrifying than the last.
Cape Cod, MA = the West Country
If you used to head to Cornwall or Devon for your holidays then you know just how spectacular the British seaside can be. Arguably, the closest America comes to reproducing West Country charm is the gangly arm that sticks out on the other side of the Atlantic: Cape Cod. Here you'll find achingly quaint villages, stunning beaches and seafood that makes you wonder why humans would subsist off anything else.
Provincetown, MA = Brighton
It's traditional to compare Brighton with San Francisco, mostly because they're thought to be the most LGBT friendly cities in their respective lands. But after that, they don't actually have a great deal in common. Provincetown, however, on the most easterly tip of Cape Cod, reproduces not only Brighton's gay friendliness but its quirky twee seaside feel.
Six Flags = Alton Towers
If this Staffordshire resort and park was your go-to for hair-raising rides in the U.K., head to Six Flags, America's best-known theme park chain. Not convinced? Four of Time Magazine's 2013 top 10 U.S. roller coasters were Six Flags rides. You'll also find the nation's tallest, fastest rollercoaster, Kingda Ka, at their Jackson, New Jersey branch.
Center Parcs = Great Wolf Lodge
If you're an all-under-one-roof kind of person with kids to appease then look no further than Great Wolf Lodge. There are 12 resorts all over the U.S. Each lodge has an indoor water park, plus plenty of other family activities on offer. Also set out like a Center Parcs, but with the added advantage of onsite skiing, is Smuggler's Notch in Vermont.
Savannah = Bath
Both built on slave money, this pretty Georgia city and Britain's best-known spa town tick a lot of the same boxes. They were built to a similar size and scale and, although they're very different architecturally, they have that same irresistible chocolate box feel. Cute art and craft shops line the streets, and you'll find yourself overusing the word "quaint."
The Berkshires, MA = The Cotswolds
Nothing in the U.S. quite replicates the charmingly posh cluster of towns and countryside that make up the Cotswolds. But the Berkshires—New England villages with enchanting antique stores, village greens and picket fences—give it a good go.
Assateague Island, VA = The New Forest
If it takes wild horses to drag you away then you've most likely holidayed in Hampshire's New Forest, where ponies roam freely. The U.S. counterpart is a national park off the coast of Virginia and Maryland. You can reach Assateague Island, plus its population of free-range ponies and 37 miles of beaches, from two entrances—by foot, bike or car. You can also camp, but only in the Maryland-controlled district.
What other U.S. holiday spots remind you of places back in Britain? Tell us below!
Join @MindtheGap_BBCA on Twitter next Wednesday (November 20) at 2 pm ET for a chat on holiday travel with guest co-host @BBC_Travel. Tweet your best travel advice using hashtag #MindTheChat.
Read More
Filed Under: