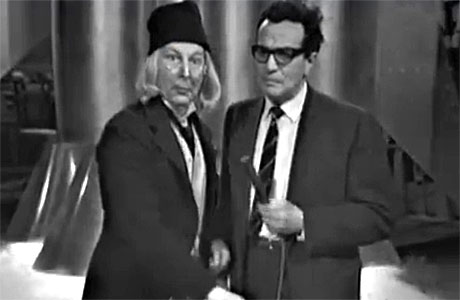 As you'd expect of any show that has lasted as long as Doctor Who has, there have been no shortage of skits based on Time Lords, Daleks, TARDISes and regenerations over the years. In fact, there's a fairly comprehensive list here that is far too long to go into in detail.
So here are some of the most notable mock Docs, starting in 1963 and ending as recently as, well, recently:
It's A Small World (1963)
Goon Show star Michael Bentine has the honour of creating the first Doctor Who spoof on British TV, when be brought in Clive Dunn to pretend to be the First Doctor. As you'll see from this documentary about BBC TV Centre, where it was shot, his shenanigans were not without consequence.
EBC1 (1977)
This will take some explaining. Rod Hull and Emu were a very popular light entertainment act from the 1970s. The act consisted of Rod essentially apologising for Emu attacking people, and Emu looking fierce. Kids adored them, and they had a string of TV shows, including EBC1, which featured this spoof of the Fourth Doctor and the Daleks.
The Lenny Henry Show (1986)
Never mind Sylvester McCoy, the real Seventh Doctor is comedian Lenny Henry, who appears to be dressed as Rupert Bear with a gestapo coat on. He does battle with the '80s Cybermen, lead by a Cyberwoman called Thatchos (little bit of politics there).
French & Saunders (1987)
Taking a more playful approach, French and Saunders appeared as Silurian extras, using the set (and costumes) from the Sixth Doctor story "The Trial of a Time Lord" and generally making sure proceedings grind to a halt. This skit never made it to air (and isn't embeddable), but was included alongside Lenny's sketch on the video release of the comic relief Who spoof "The Curse of Fatal Death."
Speaking of which:
The Curse of Fatal Death (1999) 
A joy on every level, and a money-spinner for the BBC's Comic Relief charity campaign too. 
Victoria Wood – As Seen On TV (1987)
Anglophenia favorite Jim Broadbent gets a turn at playing the Doctor, battling his arch enemy Crayola.

Shooting Stars (1997)
"Here's a clip of the Who"
The Simpsons 
The Fourth Doctor and the TARDIS have been a fairly regular fixtures in Springfield over the years, and even the Daleks sometimes get a look in, as this clip demonstrates.
And where The Simpsons goes…
Futurama
http://youtu.be/hZE1SaOIZ-Q
Quite apart from the specifics of this clip, the main female lead is a fighting alien lady called Leela. And Amelia Pond's head has appeared in a fishtank.
Community (2011)
You've seen Inspector Spacetime, right?
South Park (2011)
In the story "Funnybot," the Germans invent a robot that proves they can be amusing. The resulting android gag-dispenser has something of the Dalek about him. Even his catchphrase is a little Skaronian.
Coming soon: Greatest references to Doctor Who in popular culture (that are not spoofs)  
See more:
11 One-Off Characters from 'Doctor Who' That Deserve a Comeback
'Doctor Who': How To Announce a New Doctor (Part 1)
The Greatest Dads Of 'Doctor Who'
10 Tips To Help You Write The Perfect British TV Show
Read More
Filed Under: