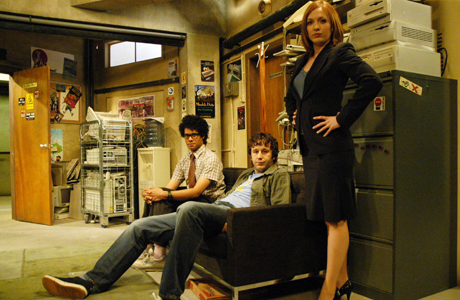 Series creator Graham Linehan (Black Books) has confirmed via Twitter that The IT Crowd will be making its return for the one-off finale special at the end of September:
People! I bring news! The IT Crowd Special will be on telly AT THE END OF THIS VERY MONTH! Channel 4 will have more details soon!

— Graham Linehan (@Glinner) September 4, 2013
Alright Channel 4, no pressure or anything … when should we expect some details? "Soon" is kind of vague.
Back in May, we announced via BBC News that the original cast members — Chris O'Dowd, Richard Ayoade, Katherine Parkinson and Matt Berry – are returning to film the 40-minute reunion finale.
The Bafta-winning sitcom, revolving around two office IT (information technology) guys and their tech-challenged supervisor, was on the air for four seasons between 2006 and 2010 on Channel 4. Originally, a fifth season was expected but it never happened. Surely, this left audience members unsatisfied, scratching their heads and wondering, "Wait, what happened to the last season?" More importantly, "WHERE is the ending?"
In 2012, O'Dowd talked about wanting a reunion telling DigitalSpy, "I don't think we said goodbye to them properly. We need closure, as they say."
The Family Tree actor retweeted the below announcement on his Twitter account today:
Are you excited to see @BigBoyler and #TheITCrowd back on d'telly? http://t.co/RLZ5WyalXq

— entertainment.ie (@entertainmentIE) September 5, 2013
If you haven't seen the entire series just yet, you can watch full episodes on Hulu.com. Check out the trailer below:
We'll be sure to let you know when and where the finale will be available in the U.S. once it's confirmed.
What are your thoughts on the finale? 
Read More
Filed Under: