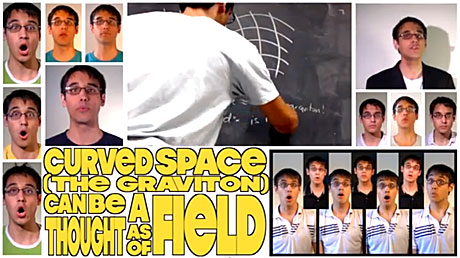 Songs that can be rewritten in order to express some of the latest research in physics are few and far between. One Direction's 'What Makes You Beautiful' would probably struggle to match, in scansion as well as tone, the full majestic sweep of human understanding of the universe as it currently stands. 'I Will Wait' by Mumford and Sons is a little too repetitive to explain complicated scientific concepts and keep the rhymes and vowel sounds roughly right.
What you'd need, really, is a song with many different parts, a song with lyrics that don't conform to a particularly strict rhythmic pattern and can happily fit in dense terminology with the minimum of shoehorning. A song that lends itself to being reinterpreted, but never loses its own identity, no matter how badly mauled it may get in the process.
What you'd need, ladies and gentlemen, is "Bohemian Rhapsody" by Queen.
Enter the very talented Tim Blias, who elected, while writing his master's thesis for McGill University in Montreal, to re-write the preposterous Queen classic with an explanation of the universe (with a talent for word substitution that would shame Weird Al Yankovic), and then perform it as a one-man a capella choir: 

Note: if you're tempted to sing along with "Bohemian Gravity" yourself, the lyrics are on Tim's YouTube page.
Naturally, while this is very impressive, it only serves as an appetiser for the main course, Tim's thesis itself. A little light reading to get the day started properly.
Read More
Filed Under: