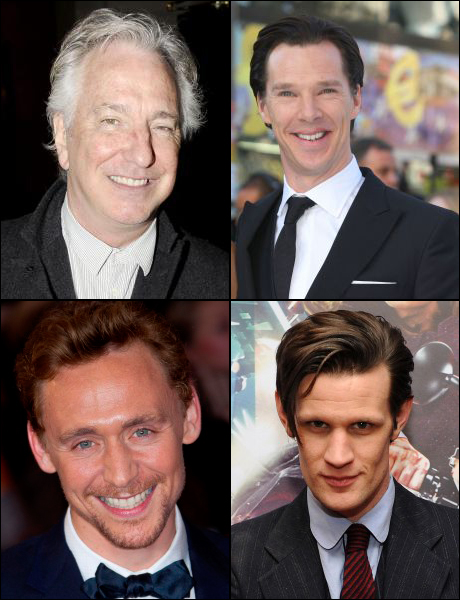 Quarterfinals are over; on to the semis! But before we move forward, let's take a look at the last round's surprising results.
We know that close matches generate huge vote totals. However, we never could have anticipated the almost 500,000 votes in the David Tennant/Alan Rickman quarters battle. (That's far more votes than in either of our previous years' finals — truly impressive.) With their topsy-turvy race never budging far from 50/50, Rickman just edged out Tennant, 50.92 percent to 49.08.
This reminds us that, while Rickman had an early exit last year, our 2011 Anglo Fan Favorites champion is very much a factor in 2013, Snape or no Snape. And his AFF record is 1-0 against the towering Benedict Cumberbatch, whom he faces this week.
Cumberbatch drops from No. 1 seed to last seed this week, as he had the smallest vote total of the Final Four. His quarterfinals match with Sir Ian McKellen, a legend to be sure, was never competitive, leaving no real need for fans to stuff the ballot box to secure Cumberbatch's ultimate landslide victory. As a result, Cumberbatch only required 44,000 quarterfinals votes to win while Rickman needed 251,000. Against the resurgent Rickmaniacs, Benedict's fans will surely have to mobilize this round to get their lad into the finals.
Meanwhile, last year's champion Tom Hiddleston looks strong as ever this year. He was challenged early on by Merlin's Colin Morgan, but Hiddles eventually found a comfortable cushion of votes and never looked back. Could Hiddleston find himself defending his title next week in the finals, possibly in a Cumberematch?
Hiddleston will first have to survive our departing Doctor Matt Smith, who has come a long way in our tournament's history: he went out in the first round against James McAvoy in 2011 and fell at the hands of his Who predecessor Tennant in 2012's Round of 16. But on his third try, he's into the semis. Smith will have a fight on his hands with Hiddleston, but his 19-point victory over last year's bronze medalist Martin Freeman (after The Hobbit, no less) suggest Smith will be no pushover.
We started with 32 men, and now we've reached the Final Four. Cast your ballots hourly to ensure your favorite makes it into next week's finals. Ring the alarms, erect monuments if you must. But do make sure you VOTE! (Semis voting closes Thursday, August 22 at 11 am ET.)
FIRST: Alan Rickman vs. Benedict Cumberbatch
Read More
Filed Under: