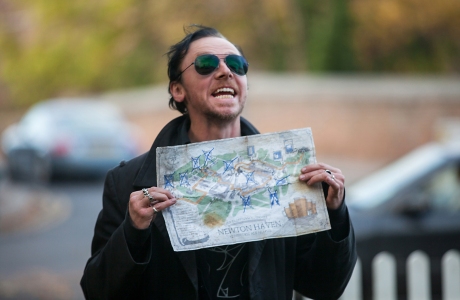 Fans of Simon Pegg and Edgar Wright turned out in force at theaters this weekend, as the third and final entry in their thematic "Cornetto trilogy" of films gave the writer/director team their strongest opening yet at the U.S. box office.
Showing on only 1,549 screens, the film — which also stars Nick Frost and Sherlock's Martin Freeman — nevertheless racked up $8.9 million in sales across its opening weekend, a take that put it in fourth place overall. But the film received a significantly better per-screen average than the third-placed Mortal Instruments: City of Bones. It's also the best opening weekend that any of the trilogy has had in the U.S., beating Shaun of the Dead's $3.3 million and Hot Fuzz's $5.8 million.
While the gang's hardcore fanbase undoubtedly had an effect on the film's take, it was also boosted by hugely positive stateside reviews, with The Wall Street Journal dubbing it "hilarious high-end nonsense," while The Washington Post said it "closes this year's apocalyptic summer movie season on a destructive yet pleasing note." The U.S. takings also mean that the film, which opened in the U.K. in July, has already surpassed its $20 million budget, with a total worldwide gross so far of around $24.8 million.
All of this should heighten anticipation for each of the pair's next projects — although when they'll next work together remains to be seen, despite Pegg dropping a cheeky hint on Twitter that he might have some involvement in Wright's upcoming Ant-Man adaptation for Marvel…
Read More
Filed Under: