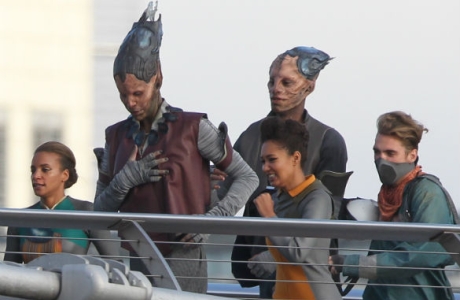 Blockbuster movies seem to have a real thing for London lately. Already this year we've seen Star Trek Into Darkness hit the UK capital with a vengeance, while the upcoming Thor: The Dark World features in its trailer what look like extensive sequences set in (not to mention apparently destroying) parts of Greenwich.
And now, the latest film on the Marvel slate, James Gunn's Guardians of the Galaxy, is joining in by shooting footage of an array of exotically-attired alien extras running across the River Thames' Millennium Bridge earlier today. None of the film's major stars — including Parks and Recreation's Chris Pratt and former Doctor Who companion Karen Gillan — were in attendance, but tourists and commuters alike looked on as a helicopter with a mounted camera filmed dramatic swooping shots from overhead.
The Millennium Bridge was constructed, unsurprisingly, to mark the new millennium in the year 2000 — although it attracted controversy almost immediately after opening when it suffered from unexpected vibrations that led it to be nicknamed the "Wobbly Bridge." It finally reopened after extensive modification in 2002, and has since become one of the most famed modern additions to the Thames' North and South banks.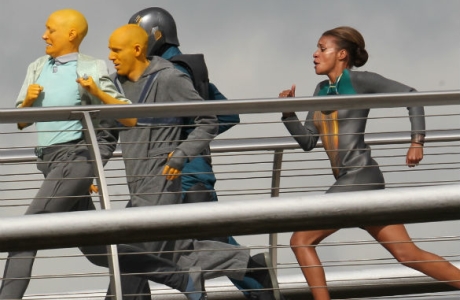 Given that Guardians of the Galaxy is unlikely to be set on Earth, however, in this instance it seems that the bridge's distinctive architecture will be used in the foreground of a rather more alien, CGI-generated landscape. Fans of the comic have already speculated that the colorful aliens might be running amid the destruction of the planet Xandar.
We'll find out more when Guardians of the Galaxy is released in August 2014.
Read More
Filed Under: