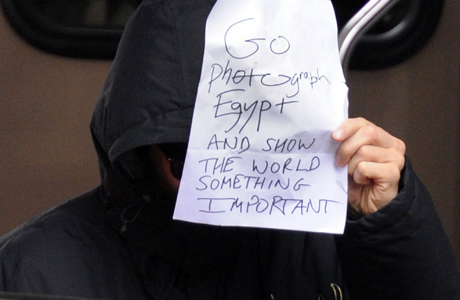 Benedict Cumberbatch has a message to Sherlock paps wanting to snatch a shot from the filming of Series Three.
In a photo posted to a WalesOnline.co.uk photo gallery (via Radio Times), a hoodied Cumberbatch held up a written sign that read "Go photograph Egypt and show the world something important."
Cumberbatch, Mark Gatiss, Martin Freeman, and Freeman's real-life partner, actress Amanda Abbington, were shot filming the final episode of Sherlock Season 3, which, wait for it, doesn't have a U.S. or U.K. air date. But, of course, we've seen a teaser featuring Watson with a mustache, learned of a new villain, and heard scoops via Steven Moffat, Sue Vertue, and Gatiss at this year's Comic-Con.
Read More
Filed Under: