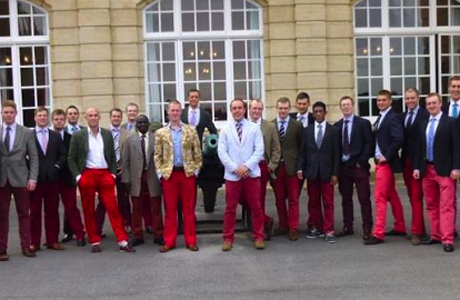 Just the other day, we observed an English gent wearing red trousers (RTs) and thought, "Are those Nantucket Reds or is he just in the mood to wear red trousers?" It didn't incite rage or have us thinking, "Why does he think he's better than everyone else?" But, admittedly, we did think about it.
It turns out, Britons aren't as forgiving when it comes to this fashion choice. According to a survey released by YouGov, 46 percent of the respondents voiced their dislike for men in red trousers. Words that came to mind were "idiot", "odd" and "clown". Apparently the statement piece is associated with elitism.
British Esquire magazine's Senior Fashion Editor Gareth Scourfield told Reuters UK, "I think the problem is it has a connotation as a rich man's casual wear."
The debate over this clothing item, which has its own acronym, RT, has been going on for a while with the wearing of red trousers going back to the 15th century.
There's a website that comes to the defense of the red legged community called LAMFRT (Look At My F'n Red Trousers) providing pics ranging from the more traditional look paired with a striped shirt and bow tie to the hipster donning a faux fur coat.
Do red trousers make you see red?
Read More
Filed Under: