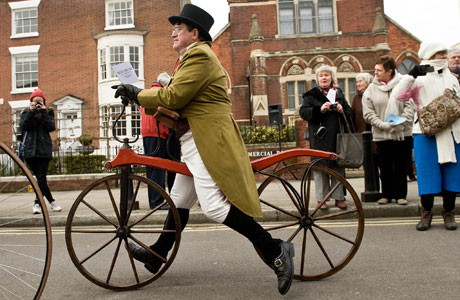 Season 2 of Copper is coming back to BBCAMERICA on  June 23, at 10 pm/9c, which means there is going to be a lot of information coming out of your TV screens about life (and death) in New York during the 1860s.
But what was going on in London during that period, and, more to the point, can you still do any of those things today?
Well, yes you can, and here are five examples:
Ride a bicycle
Unlike, say, Amsterdam or Cambridge, London was not, until recently, a city defined by its cyclists. However, the pastime proved to be astonishingly popular among Victorian Londoners, who were even allowed formal access to Hyde Park in 1893, causing commentators to observe that this new and peculiar vehicle would soon see the end of traveling by horse. HG Wells was so taken with his two-wheeler that he wrote The Wheels of Chance: A Bicycling Idyll, published in 1896.
And over the past five years or so, London streets have seen stretches of on-street parking devoted to racks of bicycles for hire, called Boris Bikes after Boris Johnson, Mayor of London. Granted, you still have to get through the traffic (take a face-mask!), but there are worse ways to see the city.
Mourn the passing of Prince Albert
Queen Victoria's grief at the death of her beloved husband — from typhoid in 1861 — was so overwhelming, so colossal that it made her question her role as monarch, preferring to withdraw from public life.
But she did pay tribute to him by erecting a huge monument in Kensington Gardens — 176 feet tall, with a gilt bronze statue of Albert seated looking off towards the Royal Albert Hall (which was originally intended to be named the Central Hall of Arts and Sciences, until an intervention from the Queen herself, when laying the foundation stone, prompted a change of heart).
It cost the equivalent of $15.5 million, a bill that was paid largely by public subscription.
And yes, it's still there and fully available for public viewing.
Go Slumming
Not the nicest of ideas, but if you're of a mind to recreate the true Victorian experience, you'll want to try the genuine middle-class pastime of slumming. All you need to do is dress up (or more accurately, down) in the sort of clothes you'd see people from very low-income housing estates wearing — so nowadays it might be tracksuits and baseball caps, with perhaps a smattering of chunky gold jewelry — and then go and visit one or two of the estates that were most affected by last year's riots to get an illicit thrill.
Warning: the true Victorian slummer would go so far as to take up lodgings in the slum areas of the East End, and in more extreme cases, even take up sexual relations.
Which leads us to another bad idea…
Go to the bathroom in the street
Granted, you can't really do this one now, particularly during daylight hours, without running into legal trouble, but it is certainly true that within the working class areas of London — the East End, the area known as the Devil's Acre, next to the Palace of Westminster — there was practically no running water and certainly no public conveniences, so if you weren't of a certain social standing, the only place to go would be in the street. This would then lead to outbreaks of disease, but we're certainly not suggesting you catch cholera just to have an authentic Victorian vacation.
However, this knowledge does shed new light on the Victorian reputation for order and cleanliness. Hygiene wasn't just about propriety, it defined your social standing, especially if you were lucky enough to afford to be able to afford to keep clean.
And if maybe the last two were a little much for your tastes…
Take afternoon tea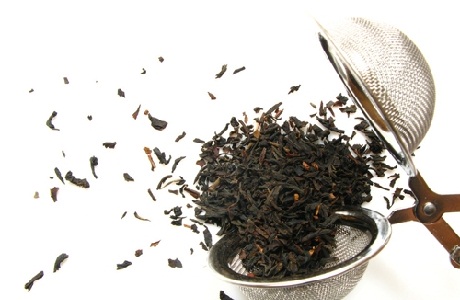 The stereotype of the tea-obsessed Brits, who down tools at 4 pm to partake of a brew, comes from Victorian times. Previously it had been the tradition to eat an evening meal at 5 to 6 pm, after which the teapot would come out, much as people drink coffee after dinner now. But the Victorians pushed their evening meals back to 8 to 9 pm, which meant they'd get a little peckish towards the late afternoon, and required something of a pit-stop.
This, coupled with the fashion for French cuisine, meant that beverages would be served with pastries, cakes or scones, to prevent unseemly digestive gurgles in the early evening.
SEE ALSO: Buzzfeed's 9 Ways You Can Relive the 1800s in New York
Now, lace up your boots, hitch up those petticoats and climb aboard a trans-Atlantic steamship. See you in a fortnight!
Read More
Filed Under: