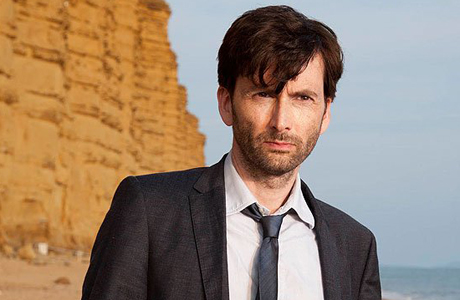 This is amazing, a week ago the entire internet, freshly scrubbed clean from a virulent infection of Star Trek Into Darkness trailers, was developing a rash of Doctor Who rumors about who would play the Twelfth Doctor. Now, the emphasis has shifted and all the fake rumors are about what Matt Smith is going to do next, including – according to yesterday's Mirror – appearing in the sequel to Broadchurch.
Apparently, the rumors are boohockey of the highest order. The confirmation comes from Chris Chibnall, a man who should know, being both a Doctor Who insider and the writer of Broadchurch. He has taken to Twitter to set the record straight, saying:
Ahem. That Mirror headline about me wanting to cast Matt Smith in Broadchurch? Not true. Quotes don't bear it out. Recycled old interview.

— Chris Chibnall (@ChrisChibnall) June 27, 2013
And then:
I love Matt and his work – that's all I said. Never mentioned using him in Broadchurch. And he's off doing movies anyway. Slow news day!

— Chris Chibnall (@ChrisChibnall) June 27, 2013
So, that's that.
Broadchurch premiers on BBCAMERICA on August 7, at 10pm/9c
Read More
Filed Under: