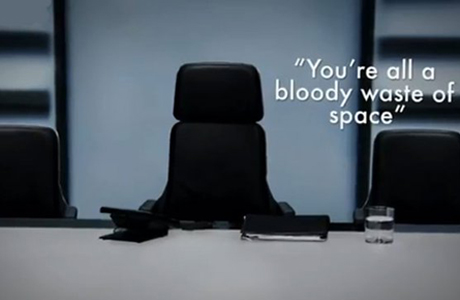 The trailer for The Apprentice UK has been released leading up to the season premiere of the ninth season and there are some zingers in it. But, to be honest, that's all. The host Lord Sugar, which is the most amazing name by the way, and the contestants aren't featured. The trailer is quite clever with Lord Sugar and the contestants zapping back and forth but all we see is a tour of an empty office with word art floating through ultimately filling the space. For instance, one of the contestants addresses the host casually saying, "Ahhh … man." And his response is, "No, I'm not man. … I'm Lord Sugar." It's pretty amazing.
Here are some other salty lines from Lord Sugar:
"You're all a bloody waste of space."
"You shut up … you shut up … and you talk."
"Shut up. You told me you could do things you lot. You can't."
"You're fired."
"You're fired."
"You're fired."
Alright, we've heard his side. If you watch the trailer below you can hear from the contestants themselves. We figure it's only fair to give them a chance to speak up!
If you would like to Lord Sugar in action, here's a clip of some of his funnier moments like when he asks one of the more chiseled male contestants, "Have you had any handsome attacks today?"
Which do you prefer more? Lord Sugar or Donald Trump?
Read More
Filed Under: