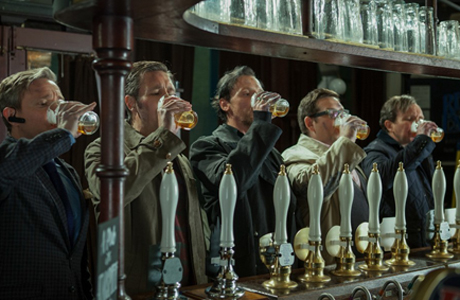 Writer and director Edgar Wright has taken to Twitter to announce schedule changes for the upcoming film The World's End co-written with actor pal Simon Pegg, who stars in the film. The follow up to Shaun of the Dead and Hot Fuzz will be moved up a month and released in the UK on July 19 and in the U.S. on August 23 versus originally planned for October, 2013.
He casts the bate:
Hey UK, would you like to see 'The World's End' released a whole MONTH earlier?

— edgarwright (@edgarwright) April 23, 2013
He gets a bite:
Prepare for barmageddon: 'The World's End' hits UK cinemas on JULY 19TH!

— edgarwright (@edgarwright) April 23, 2013
He reels it in:
And yes, since the film is coming soon, the trailer is also very coming soon. With which film you say? Have a guess…

— edgarwright (@edgarwright) April 23, 2013
Wright and Pegg reunite with Nick Frost (Shaun of the Dead; Hot Fuzz) on the new film; rounding out the cast are Martin Freeman (Sherlock; The Hobbit), Paddy Considine (Hot Fuzz), Eddie Marsan (Snow White and the Huntsman), and Rosamund Pike (Jack Reacher). The high school mates have a sort of reunion to conquer an epic pub crawl but then realize the end of the world is coming. Check out the list of pubs they need to conquer before hitting The World's End … these sound like the making of an Anglophenia-like pub post:
Are you excited the release date has been moved up a month?
Read More
Filed Under: