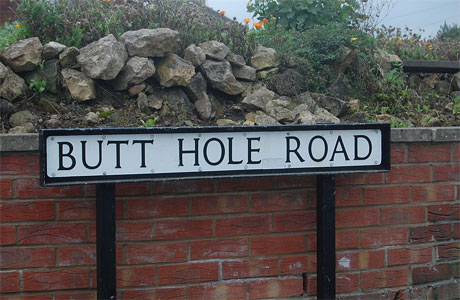 Look away, people with nervous dispositions! Church-people, avert your eyes! The British Isles is riddled – RIDDLED I TELL YOU – with signposts of such utter filth and depravity it could corrupt the souls of any passing and innocent traveler.
And while some of these signs point to places that were named in a time when the words had different meanings, and were therefore far less disgusting, some of them are more recent. This should give you some idea of exactly how puerile the British can be, especially those people in charge of town planning.
So here, in alphabetical order, and the twenty rudest place names in the U.K., and some explanations of the ones only British people will find amusing. Read if you must, but have something holy (or scientific) nearby, to act as a mental sorbet should your mind become, y'know, engorged.
1: Back Passage
An alleyway in the City of London, and a polite term for the keister. 
2: Beaver Close
A dead-end in Surrey, England.
3: Bell End
A term of abuse, that describes the upper portion of a man's John Thomas. and a village in Worcestershire, England.
4: Butt Hole Road
Ah Conisbrough, South Yorkshire, what pleasure you must have given visiting American tourists every year, and what a shame you changed the name to Archers Way.
5: Cockermouth
Allerdale, Cumbria is the site for this unsavory place. Actually, it's a very nice place, on the mouth of the river Cocker.
6: Cocks
Cornwall is also blessed with a place called Ventongimps. Which is, surprisingly, NOT where you go if you want to shout at people dressed in bondage gear.
7: Cockshoot Close
Keeping it classy, Oxfordshire elects to warn visitors of nearby shenanigans.
8: Crotch Crescent
Although I don't know what they were thinking with this one.
9: Dick Court
The most painful spot in Lanarkshire, Scotland.
10: Fanny Hands Lane
Definitely ruder in Lincolnshire, England than it is in Anywhere, America.  However…
11: Fingringhoe
A place in Essex that will only have discovered the true horror of their name by listening to hip hop records during the late '80s.
12: Fine Bush Lane
The good people of Ruislip are very complimentary.
13: Hole of Horcum
An oddly Harry Potter-ish (but still very rude) name for this valley in the North York Moors.
14: Hornyold Road
The people of Malvern, Worcestershire clearly like to be very much in regional control of their nighttime liaisons.
15: Ladygate Lane
Which is, to the folk of Ruislip, Middlesex where to go if you're on the way to Hornyold Road.
16: Minge Lane
There is nothing funny about this road in Upton-upon-Severn, Worcestershire, unless you know that minge (rhymes with binge) means the same thing as ladygate.
17: Sandy Balls
Not a reference to Donald Trump's golf bag, the name of this part of the New Forest in Hampshire dates back to the reign of Henry VIII. That's around 500 years' worth of sniggering.
18: Shitterton
Hats off to the people of Dorset, who chose to express their civic pride in a startlingly unorthodox way.
19: Slag Lane
Sadly not a place where slags congregate, to share common interests and slagging tips. Merseysiders, no matter that the word slag was once used in reference to mining and now means a woman with disastrously low standards, NEVER change this street name.
20: Twatt
There are not one, but two Twatts within the British Isles. One on the isle of Shetland, the other on the isle of Orkney. And yes, it's yet another ladygate situation.
EDIT: Since writing this, we came up with another one, so take this as a kind of DVD extra:
21: Cockfosters
Which, in London, can lead you to cockadopters, if you're very lucky.
Read More
Filed Under: