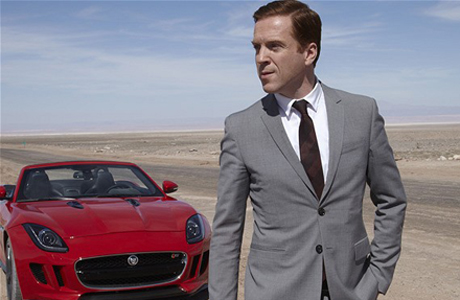 Damian Lewis (Homeland) sports his native accent in the Jaguar advert, disguised as a short film, produced by Ridley Scott's (Pompeii) advertising company, reports The Hollywood Reporter.
The 12-minute commercial even has a title, which is … Desire. Swish, swoo. The Jaguar is a sexy car so it makes sense to have a sexy-ish title. Lewis performs opposite American actress Shannyn Sossamon (A Knight's Tale).
His playboy alter ego is more reminiscent of Jason Statham's Frank Martin in The Transporter rather than James Bond with Lewis en-route to deliver the desired car to a client. He is interrupted when Sossamon hops behind the wheel and takes off with her husband, err, correction, that's ex-husband, close behind.
You can watch the short film in its entirety, below:
Lewis was attracted to the script because of its humor, saying, "There's not a lot of comedy in Homeland."
Hmm, it's supposed to be funny?
Read More
Filed Under: