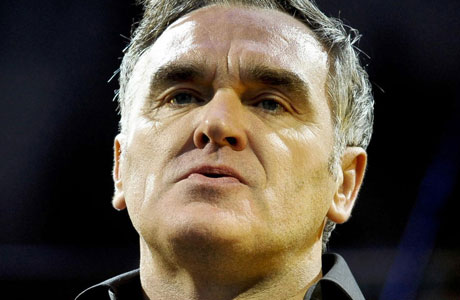 OK, hands up, who's been attacking Morrissey's immune system? Militant meat eaters, was it you? I'm looking in your direction, the royalists, anything to confess?
Over the past few months, the truculent singer has been struck down with the following ailments: anemia, a bleeding ulcer, and the Barrett's esophagus, a condition akin to a severe acid reflux that can increase the risk of throat cancer. Gigs have suffered, as a result.
And now, to make matters pretty scarily worse, he's now being treated for double pneumonia (according to his mouthpiece zine True To You).
All the news reports are focusing on his decision to cancel Saturday's gig in San Francisco. There's even a certain optimistic focus on his headlining gig at the Viva Latino festival in Mexico City, the day after tomorrow (March 14). Wild claims are being made that he'll be there, that the show will go on.
But the thing is, he's a 53-year-old man with both of his lungs full of fluid. For all that he would like us to believe, as all pop stars would, that he's an immortal superhero, that's a fairly serious medical situation. Even if all goes well and he comes out in one piece (which isn't a given, pneumonia being what it is), he's going to be coughing a LOT. Singing, in his condition, would be a very bad idea indeed.
I'm just saying, Mexico, even though you've bought tickets and stuff, if you want him to come back and perform at your festival again, perhaps we could give him some more time off now?
Read More
Filed Under: