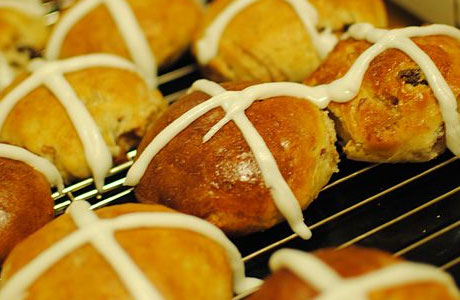 Depending on which calendar you happen to follow, today could very well be Good Friday. And if it is, you may be considering a hot cross bun right now. And if you are, you are in good company.
The tradition of eating sweetbread rolls with a batter cross on the top goes back many hundreds of years, particularly in the British Isles, where fruit and bread have long been staples of our diet. But they haven't always been welcome. During Elizabethan times, the sale of any spiced breads was banned by the London Clerk of Markets, apart from at Christmas, and on Good Friday, and at a burial. So people opted to make them at home instead.
Over the years, many superstitions have arisen about their magical powers, particularly as they've been anointed with the sign of the cross. Some people believe they have medicinal powers, and indeed they do, especially if you're poorly from a lack of food. And if you share your hot cross bun with someone, you will remain good friends with them for a whole year, even if they take the bigger half. The trick is to offer this incantation as you split the bun: "Half for you and half for me, Between us two shall goodwill be," and then pinky-swear to be BFFs for, like,  everrr.
And they're incredibly versatile as good luck charms to ward off the elements. For example, if you're worried about a sea voyage, take a hot cross bun with you, as it is claimed they will prevent the ship from being sunk. If you hang one in your kitchen, your house won't catch fire, and as an added bonus, it will ensure you never bake a bad loaf of bread. It really is the Swiss Army knife of magic puddings.
And there's an old English superstition that claims that if you bake buns and serve them on Good Friday, they will not go off or mouldy for the rest of the year. And it is in this spirit that we offer the following recipe (from BBC Food). It only makes twelve buns, but if you've got the willpower to resist scoffing the lot, we put the theory to the test. Shall we?
You will need:
For the buns
1.3lb strong white flour, plus extra for dusting
1 tsp salt
2 tsp ground mixed spice
1.5 oz unsalted butter, cut into cubes, plus extra for greasing
3oz sugar
1 lemon (for zesting)
1½ tsp fast-action yeast
1 free-range egg
10fl oz tepid milk
4oz mixed dried fruit
For the glaze and cross
2 tbsp plain flour
1 tbsp golden syrup
What to do:
Sieve the flour, salt and ground mixed spice into a mixing bowl, then rub in the butter using your fingertips. Make a well in the centre of the mixture, then add the sugar and lemon zest and yeast.
Beat the egg and add to the flour with the tepid milk. Mix together to a form a soft, pliable dough.
Turn out the dough onto a lightly floured work surface. Carefully work the mixed dried fruit into the dough until well combined. Knead lightly for 5 minutes, or until smooth and elastic.
Grease a large, warm mixing bowl with butter. Shape the dough into a ball and place it into the prepared bowl, then cover with a clean tea towel and set aside in a warm place for one hour to prove.
Turn out the proved dough onto a lightly floured work surface and knock back the dough. Shape it into a ball again and return it to the bowl, then cover again with the tea towel and set aside for a further 30 minutes to rise.
Turn out the dough onto a lightly floured work surface and divide it into 12 equal pieces. Roll each piece into a ball, then flatten slightly into a bun shape using the palms of your hands. Cover the buns again with the tea towel and set aside to rest for 5-10 minutes.
Grease a baking tray with butter and transfer the buns to the tray. Wrap the tray with the buns on it loosely in greaseproof paper, then place inside a large polythene bag. Tie the end of the bag tightly so that no air can get in and set aside in a warm place for a further 40 minutes to rise.
Preheat the oven to 475F/240C.
Meanwhile, for the topping, mix the plain flour to a smooth paste with 2 tablespoons of cold water.
When the buns have risen, remove the polythene bag and the greaseproof paper. Spoon the flour mixture into a piping bag and pipe a cross on each bun. Gently warm the golden syrup.
Transfer the buns to the oven and bake for 8-12 minutes, or until pale golden-brown. As soon as you remove the buns from the oven, brush them with the golden syrup, then set aside to cool on a wire rack.
EXTRA TIP: if you're a Harry Potter fan, why not deviate from the traditional cross shape and make some magicky symbols on the top instead? Hey presto! Horcrux buns!
Read More
Filed Under: