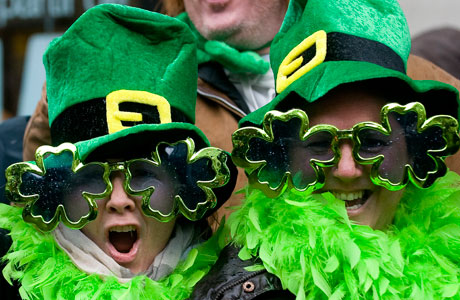 Note: these are just five great Irish songs about Ireland, not THE five greatest Irish songs about Ireland. Extensive research has lead us to conclude that there are indeed several more, but space forbids them all being included here.
"Molly Malone"
One of the most famous of all Irish songs about Ireland, and the official anthem of Dublin. In in, a beautiful girl wanders the streets selling seafood, and then she catches a fever and dies, and then her ghost takes up where her body left off, and continues to try and ply her trade. There's some debate about whether there was ever a real Molly Malone, although the Dublin Millennium Commission did settle on a Mary Malone, who died on June 13th, 1699, a date which is now designated "Molly Malone day."
Oddly, the song was not published at the time, and owes much of its style – lyrically and musically – to the late 19th Century music hall, rather than the traditional street ballads of Dublin itself. A curiously complex origin for such a simple lament.
"On Raglan Road"
Patrick Cavanagh first published the poem "Dark Haired Miriam Ran Away" in The Irish Press in 1946, as an account of early love with his girlfriend Hilda, on the streets of Dublin. Rather than use her name, Patrick chose his brother's girlfriend's name instead. Later, when Patrick met Luke Kelly of the Dubliners in a pub, his words, by then shorn of all identifying marks, were set to the tune of the folk song "Fáinne Geal an Lae," or "The Dawning of the Day," and a modern folk standard was born.
"Are You Right There, Michael?"
There simply aren't enough songs about late trains these days, are there? And the list of songs of this sort that have resulted in an official charge of libel by the train operators – as happened to Philip French, who wrote this song after being stuck on a West Clare County Railway train that was going nowhere – is exactly one song long. Legend has it that he turned up late at the court, and when reprimanded by the judge, he claimed to have travelled there on another West Clare County train, and the case was subsequently thrown out.
"Waxies' Dargle"
Due to all the shouting, this clip probably doesn't explain what is going on in the song any more than the title does. Basically, you've got two down-at-heel Dublin women ("aul' wans"), trying to raise money to go out and have some fun, or buy meat. The song's name comes from the middle verse, in which our pair plot to borrow the money to take part in a communal outing for shoe-makers/repairers – known as waxies –  to Irishtown. Any holiday resort was known as a dargle, after rich Dubliners had developed a taste for taking trips to Bray harbour, where the river Dargle meets the Irish sea.
Meanwhile, back in Irishtown, musicians would gather and the less well-to-do folk would sit out and have a big communal picnic/booze up, and on bank holidays there would even be boxing competitions. They'd get there on the backs of flat drays, having paid tuppence to climb aboard. Not that the two in this song would've been able to go, as they're still stuck in the pub, plotting.
"Kilkelly, Ireland"
http://www.youtube.com/watch?v=yN2s0J3Y8mc
And finally, the one that is not like the others. It is said that you're never more aware of your home country than when you live away from it, and it is this sentiment that runs through "Kilkelly, Ireland" as thick as a foggy dew. It was written by Steven and Peter Jones, who based it on letters sent by their great-great grandfather Brian Hunt (they were dictated to a teacher friend, Patrick McNamara), to his son John, who had moved to America.
So it's very much about what was going on in Ireland between 1860, when the first letter was sent, and 1892, when the last one arrived. You never hear John's responses to his father's pleas, and he never does go home, even for a visit, so you've got the sentimental view of home, dragging you back, and the callous, but exciting possibility of the new world, all wrapped up in the devastating passage of time. A remarkable song.
What's your favorite Irish song about Ireland? Tell us here:  
Read More
Filed Under: