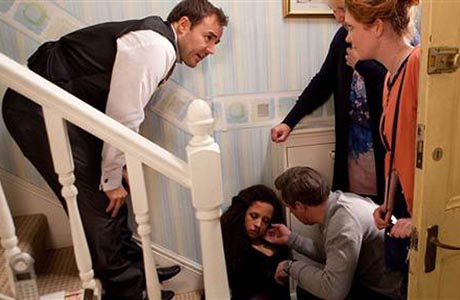 ITV initially rejected Coronation Street but, after reconsideration, the channel agreed to give it a go with a 13-episode test run. Once making it on the air the show proved its staying power with fans tuning in for 52 years and still going.
What's on: Coronation Street
What is it: A soap opera revolving around the residents who live and work on Coronation Street which is mostly made up of a cafe, a convenient store, newsstand, textile factory and pub. It is set in a fictional town based on Manchester, England.
Air-date: December 9, 1960 – Present on ITV (and, as of last month, you can watch it in the U.S.)
Who's watching: 9.2 million Brits
Why so popular: The story lines revolving around everyday, working class characters drew in the audience making it the most-watched show on British television within its first six months. It was one of the first times Northern English slang was heard on television, throwing some punch into British broadcasting.
American counterpart: Coronation Street follows the format of a typical U.S. soap opera like Days of Our Lives with the humor and sensibility of the blue-collar comedy King of Queens.
Let's jump back to 1960 and take a look at a clip of the first episode which deals with issues like difficult customers, a mum bugging her son in his 20s about getting a job and simply sitting down to dinner to awkwardly talk about "what's new" with your family.
Let's fast forward to a clip from 1980 with similar themes like job hunting, trying to "keep up with the Joneses" (which is actually said in this clip) and the pressures of being newlyweds.
We're going to speed up to current day with this clip posted last week on February 7, 2013 where there is talk about holding onto a job, getting together in a pub over pints and a couple whispering behind closed doors. Yep, it sounds like a soap opera.
The show is now in color, the characters' clothes have changed, their accents may have softened a bit but besides the expected modern updates the plots follow the same ideas that brought the show its original success and keeps the audience coming back.
It's difficult to keep up with soap operas, especially one that's been on for more than five decades, but the Coronation Street fans are truly dedicated and took to Twitter in January, 2013 to campaign to free Tyrone Dobbs (Alan Halsall), a mechanic on the show, who was arrested when his former fiancee Kirsty Soames (Natalie Gumede) falsely accused him of beating her, reports Virgin Media. Now, that's commitment.
@itvcorrie poor Tyrone! #freetyrone twitter.com/KirstyAnneHunt…

— Kirsty Hunt  (@KirstyAnneHunt) February 12, 2013
If you want to find out if Tyrone actually made it out of jail, you can check out the current story lines, here.
Also, former Coronation Street actor Bill Ward has taken to Manchester to photograph spots that represent the fictional town depicted in the TV show with some amazing results, seen here.
In addition to being a fan favorite, the show has won praise from its peers with multiple award wins including the Best Continuing Drama BAFTA in 2012 and Most Popular Serial Drama at the National Television Awards in 2013.
Would you recommend Coronation Street?
Read More
Filed Under: