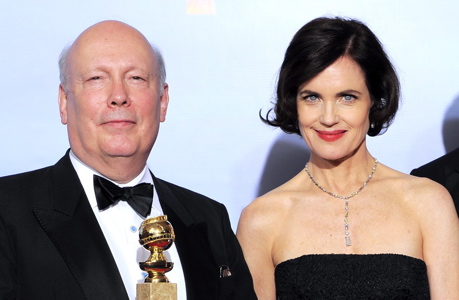 There's always a long road between announcement and actual movie, but Downton Abbey fans will rejoice to hear that star Elizabeth McGovern and creator-writer Julian Fellowes are teaming on a prospective film, according to a report on Deadline.com.
McGovern is set to appear in The Chaperone, a film adaptation by Fellowes of a best-selling 2012 American novel of the same name by Laura Moriarty. McGovern will play the lead role, that of a seemingly staid housewife from Kansas who accompanies a teenage Louise Brooks to New York City in the early 1920s. The adolescent comes to the Big Apple to study dance – a real life figure, Brooks would go on to become a silent movie star famous for her Dutch bobbed hair and later a writer – while the older woman has very personal and secret reasons for making the journey.
London-born Simon Curtis (My Week With Marilyn) will direct The Chaperone. He and McGovern are married and previously worked together on Freezing (2007-08), a BBC show that co-starred Hugh Bonneville, McGovern's hubby on Downton. (Amusingly enough, in Freezing McGovern and Bonneville also played a married couple, he a downsized publisher and she a struggling American movie star in London.)
McGovern and Curtis will also serve as producers of The Chaperone, which is being made by Fox Searchlight, the art house division of 20th Century Fox. Other Searchlight films include Hitchcock and The Best Exotic Marigold Hotel and director Danny Boyle's forthcoming Trance.
There's no word yet on when shooting on The Chaperone will begin. McGovern's immediate schedule is already booked; she starts filming on the fourth season of Downton Abbey this month.
—————————————
Do you think The Chaperone sounds promising?
—————————————
Read More
Filed Under: