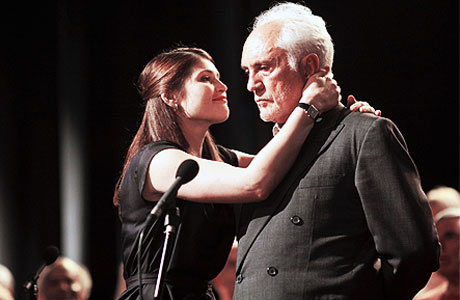 Who knew there could be such a demand for films about cranky old English gippers taking up singing late in life, that two could be released within months of one another?
We already know about Quartet, Dustin Hoffman's directorial debut, starring Dame Maggie Smith, Billy Connolly, Tom Courtenay and Pauline Collins as four bickering opera stars in a retirement home, but there's an equally ill-tempered alternative on offer.
Unfinished Song is a British comedy drama written and directed by Paul Andrew Williams that stars Terence Stamp as a huffy old man who likes a row. He rows with his son (Christopher Eccleston), he rows with his wife Marion (Vanessa Redgrave), and he rows with the people in his community, who have recently formed a choir, run by Gemma Arterton.
Here are the salient details:
http://www.youtube.com/watch?v=bdu0T_lymwc
So yes, it's a heartwarming tale, in which a crusty old goat learns to let his defences down, like crusty old goats often do in the movies. It's a bit Full Monty, a bit Brassed Off, and a bit Calendar Girls, and clearly Quartet casts something of a shadow, but on the other hand, it's got General Zod from Superman II arguing with the Ninth Doctor, before learning to sing Salt-n-Pepa songs with Strawberry Fields from Quantum of Solace, and you don't see that every day.
Unfinished Song opens in movie theaters on February 8.
Read More
Filed Under: