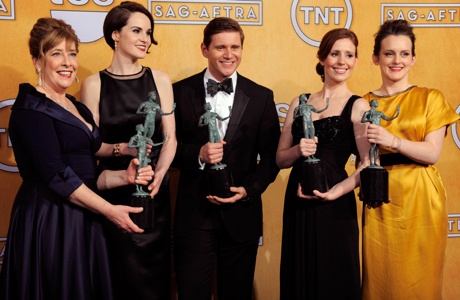 The cast of Downton Abbey were clearly gobsmacked when they won the Screen Actors Guild award for Best Ensemble in a Drama Series last night (January 27). (The favorites to win were Boardwalk Empire, which had won that particular gong for the previous two years, and recent awards' darling Homeland.) Phyllis Logan, looking quite fresh out of Mrs. Hughes' dreary uniforms, was elected to give the speech, which, right out of the gate, provided one of the great lines of the entire evening.
http://www.youtube.com/watch?v=sffP8yhLIsM
This was a pleasant splash of Britishness in a ceremony that had precious little, except for the pre-ordained Daniel Day-Lewis win as Best Actor in a Film for Lincoln. (Homeland's Claire Danes has proven to be the only person who can trump Maggie Smith's Dowager Countess at an awards ceremony. But of course, Dame Maggie didn't show.)
See also: our recap of tragedy in last night's episode of Downton Abbey.
Did you catch the SAG Awards? What was your favorite moment?
Read More
Filed Under: