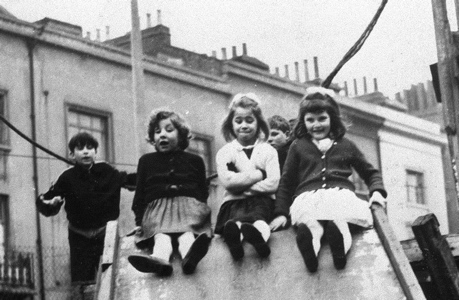 Almost a half century ago, one of the greatest of reality television shows began in England, only no one labeled it as such then.
Seven Up, a documentary that focused on 14 kids from various strata in British society, each of them a bright-eyed 7-year-old, aired on Granada Television in 1964.
http://www.youtube.com/watch?v=ngSGIjwwc4U
Some 49 years later, those same kids, now thicker of waist and 56 years old, are the subjects of 56 Up, the latest iteration of director Michael Apted's Up series, an on-going, every seven years project.
The documentary, which aired on British TV last year, scored a promising opening at a single theater in Manhattan last weekend. The eighth in the series, 56 Up grossed an impressive $20,500 in its premiere weekend at New York's IFC Center.
Reviews have been strong, with 56 Up scoring an 80 on Metracritic.com. Typical of the praise are the words of movie critic Kyle Smith, who wrote in the New York Post, "56 Up is as good a point as any to get hooked on the magnificent half-century series of documentaries, beginning in 1964 with 7 Up, that has explored the lives of a group of British citizens with a level of depth and insight unheard of in this medium — or perhaps any." (To read the full review, click here.)
The Up series began as an attempt to examine class differences in the UK, taking as its inspiration the Jesuit maxim, "Give me a child until he is seven and I will give you the man."
Apted, who was a researcher on the 1964 program, has regularly followed up with the members of the original group, even as his career as a major Hollywood director (The World Is Not Enough) blossomed. Over the decades, viewers have watched as the once energetic 7-year-olds have grown up, found jobs and careers, wed (and sometimes divorced), had children and now, at 56, even become grandparents. For some, life has been relatively easy while others have struggled to scrape by.
In 56 Up, Apted checks in on 13 of the original 14 subjects. Peter Davies, a former teacher who dropped out of the series after 28 Up because he felt he came in for too much criticism after dumping on the Thatcher government, has returned in 56 Up looking, as he cheerfully admits, to hype an alt country band in which he plays. (Still missing is Charles Furneaux, an upper class youth and now a documentary producer himself, who hasn't taken part since 21 Up.)
In England, the series airs on ITV but in the U.S., the last several installments have played in theaters and proven popular on DVD, on Netflix, and other venues. 56 Up will open in Los Angeles on Jan. 18 and in other cities and towns after that. (To see when it might be coming to your town, click here.)
———————
Do you want to see 56 Up?
———————
Read More
Filed Under: