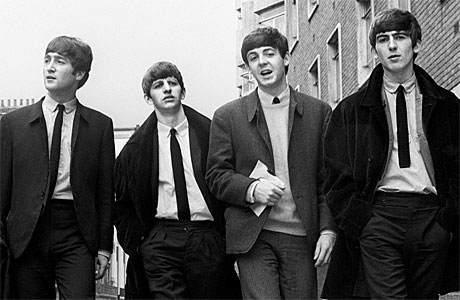 Today, 50 years ago, the Beatles released "Please Please Me" as a single. It did very well for them in the UK, rocketing to the very top of the charts, or the very next spot down, depending on which magazine's chart you happened to subscribe to at the time. It was their first big hit single, and created the whole Beatlemania boom, in Britain at least. From January 11th onwards, the Beatles were most assuredly a thing, and have continued to be so ever since.
So you'd imagine that today would be (yet) another chance to pat the Fab Four on the back, offer some congratulatory plaudit for their continuing relevance in pop music; a field that is hallmarked by the fickle nature of its own taste. 50 years, in POP MUSIC? That's like a millennium in any other artform. TWO millenniums. Maybe as many as NINE ACTUAL MILLENNIUMSES.
Here's the song, in case you're not familiar with it:
Now, the interesting thing about today in 2013 is that it also marks the end of the song's period of protection under copyright law. Already, the group's previous single "Love Me Do," which fell into the public domain last year, has been re-released by two different record labels, and from today it'll be perfectly legal to do the same thing with "Please Please Me," without a murmur of complaint from EMI, Apple, Ringo, Yoko or anyone.
And if any enterprising record company does choose to make a compilation of Beatle hits to sell on garage forecourts or over the internet, the royalty rate they have to pay is greatly reduced for public domain recordings, so it's a double slap in the chops for artists who have carefully guarded their business from cheap exploitation over the years.
Granted, everyone who made a record before 1963 has already had to bite this particular bullet, and some of the early jazz and rock 'n' roll pioneers have been dying the death of a thousand cheap and tacky compilations for years. But the Beatles still feel part of the modern era, somehow. Their back catalogue has only just been made available on iTunes, for example. They've only just remastered their work back to its original sparkling mono glory. And it's tempting to conclude that these advances would not have happened if this particular financial brick wall wasn't approaching the various stakeholders in the Beatle brand with some speed.
Clearly the copyright laws were drafted at a time when it was inconceivable that someone would write a song that could linger in public popularity to such a significant degree that it was still worth money 50 years after it was recorded. It must have been equally beyond conception that the person who recorded the song would still be alive and making music, when they should be retired, dead, or worst of all, unpopular.
There are legal moves afoot to extend the legal range of copyright to 70 years, to really ensure the creatives are dead before their work passes on to other hands, but it hasn't happened yet. And every year that passes just frees up more of the Beatles back catalogue to potential exploitation. Their first album, also called "Please Please Me" has until March 22, with "From Me To You" following less than a month later.
So, probably best not to make a cake for every 50th anniversary that comes up, it might just rub salt in the wound.
Read More
Filed Under: