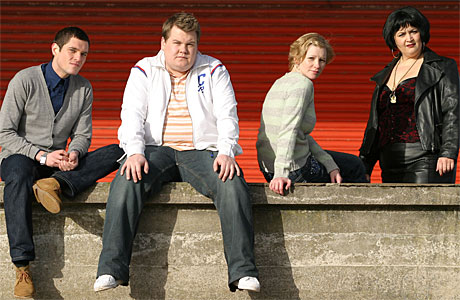 I know, I know, I know, this is a news story that appears to have arrived hot-foot from 2011, but bear with me.
It seems all of the speculation about the return of Gavin And Stacey, the narrative arc of which came firmly back down to Earth in its final episode on New Year's Day 2010, has started to get on Ruth Jones's nerves.
This is partly due to three separate TV networks trying to get a US version of the show off the ground, but (so far) not getting beyond the pilot script stage, and with the recent cancellation of the US Inbetweeners, possibly that's the way things are going to stay for the imported hit UK comedy conceits.
Ruth told the Press Association: "Right, I'm going to go on the record with this. There is not even a [US] pilot being made. A script's been commissioned, might not even go to pilot and it's the third time it's happened and I have no idea why all of a sudden it's all over the press.
"NBC had a script made of it, ABC had a script and it was going to pilot it and then dropped it and now Fox have commissioned a script and that's all."
And the main reason for this emphatic denial is that her friends and family keep reading in the papers that she's worth a few bob now. Apparently not:
"I read in the press apparently I'm making five million pounds. Can I just go on record as saying I am not making five million pounds. So to all my family and friends who think they might be getting a really nice Christmas present this year sorry, nada, isn't going to happen…
"All I want to do is stamp out this idea that there's going to be American Gavin And Stacey. I mean it could happen but then I could win the lottery. It's literally like that at the moment."
And don't be thinking this means she's about to bunker down with James Corden and knock out another series for the money either, not even if that money pays for those Christmas presents:
"There is going to be no more Gavin And Stacey."
And you're all getting hand-made socks with a tangerine in. OK?
Read More
Filed Under: