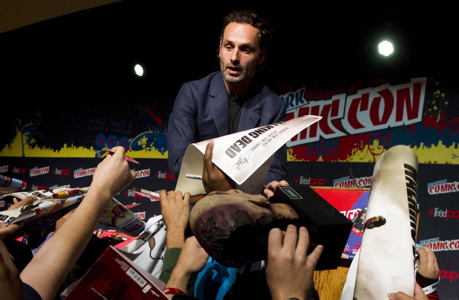 Andrew Lincoln: What's Rick's Breaking Point?
"There are more zombie kills in this episode than in the whole of season one," Walking Dead star Andrew Lincoln told a cheering New York Comic-Con crowd yesterday about tonight's season three premiere.
The British actor, who plays Rick Grimes, a former sheriff's deputy leading a small band of humans fighting for survival against a zombie apocalypse, said: "I made the fatal error this year of going into the writer's room and saying, 'What do you think Rick's breaking point is?' Well, that's the worst thing I could have said."
Not for fans of the show.
"It's been brutal, it's been intense," Lincoln said.
While the most obvious and action-packed battles in The Walking Dead have generally been between humans and zombies, or "walkers," as they are called on the show, the power struggles between humans are every bit as much of a driving narrative force in the series.
This season, the human power struggle promises to become even more intense with the introduction of the character of The Governor, played by Brit David Morrissey.
David Morrissey: 'Interesting term, evil, isn't it?'
"He's a leader that I think some people might recognize," said Morrissey. "He runs a community called Woodbury. It's a great place – if you abide by the rules. It's a secure place in an insecure world."
But that security, as fans of creator Robert Kirkman's zombie world know, comes at a price – Morrissey was asked whether The Governor is evil.
"Interesting term, evil, isn't it?" asked back. "I don't know whether anyone says that about themselves."
When pressed a few moments later, he smiled and said, to the Comic-Con audience's laughter, "He's a good guy, I like him."
Here's what Morrissey told an interviewer at the convention, as he was joined by another newcomer to the series, actress Danai Gurira, who plays the sword-bearing zombie killer Michonne:
We don't yet know how long the story arcs of Michonne and The Governor will extend, but for Andrew Lincoln's sake, if not for ours, we hope they'll stick around awhile. Lincoln says that the hardest part of doing the series for him is having to say goodbye to actors whose characters are killed off. The crew has even devised departure rituals that include "death dinners" and pictures posted to the production offices called the "hall of fame."
"But I like to call it 'The Hall of Maim,'" Lincoln told the New York Daily News. "Where you have a picture and your character name and when you passed away into zombie heaven. Yeah, this has become the landscape of my life."
Season three of The Walking Dead premieres tonight, Sunday, Oct. 14 at 9p/8c on AMC.
Read More
Filed Under: