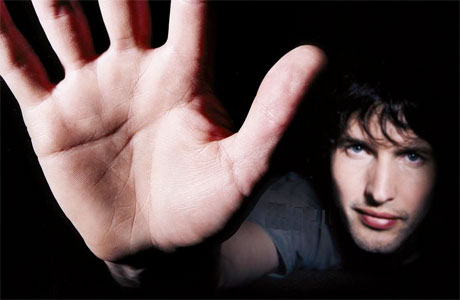 No.
Although, he did tell the Mail, in the safe, confidential enclosure of a nightclub launch party, that he was looking to take a break after a gruelling world tour, and that he hadn't got around to writing any new songs yet, so clearly that's the same as giving up forever.
James was speaking to a journalist at the opening of Barbarella in London's well-to-do Fulham, and clearly did not want to spend a long time talking shop, not while he could be having a drink and a dance with his girlfriend Sofia. So, he pretended there isn't going to be a shop any more.
He said: "I just want to take some time out for myself. I haven't got any plans to do more songwriting. I have been chilling out since I finished my world tour and I've spent a lot of time in Ibiza, where I have a villa."
Hands up who knew he would mention his villa in Ibiza (where he has a villa)? Yep. That's everyone. Oh and he's got a yacht too. Let's see how long he goes without mentioning that:  "Sofia and I had a great time hanging out with friends on my yacht but we partied as well."
And then, being a true pro, he brought the topic back to the matter in hand, and swanned off: "I do like a good night out and that is why it's great fun to hang out at Barbarella. London needs more nightclubs like this."
BOOM! Suddenly we have a "pop star quits" story on our hands. Well, let's see who's right, shall we?
Note: It's me. I'm right.
Read More
Filed Under: