Doctor Who got the old Hollywood treatment at New York's Ziegfeld Theater this Saturday (August 25) for the U.S. premiere screening of "Asylum of the Daleks," the first episode of the seventh season (premiering Saturday, September 1 on BBC AMERICA.) After the screening, Nerdist host Chris Hardwick moderated a Q&A with stars Matt Smith and Karen Gillan and executive producer Caroline Skinner.
Matt and Karen arrived at the Ziegfeld in epic retro style, in Deloreans. You could hear every geek's heart squeal the moment when those doors lifted into the air.
Karen and Matt chatted with fans outside the theater, signing autographs and pressing the flesh:
Many fans had been lined up as early as 6 am to claim the best seats inside the theater, including this pair of cosplayers:
We won't spoil the episode, but "Asylum of the Daleks" ranks with Steven Moffat's best installments. (Actually, and I'm going out of the limb, it's arguably his greatest achievement on the show. Certainly on par with "Blink.") It's a hilarious, terrifying tearjerker that delivers peak performances from all of the cast, and, yes, it features the Daleks at the scariest they've been in years. Seeing the episode on the big screen only amplified its impact. It was no surprise that nearly all 1,100 in the audience leaped to their feet when the end credits rolled.
Chris Hardwick led the Q&A with Matt, Karen, and Caro, which featured the quirky banter we've come to expect from this crew. (Be on the lookout for video of the Q&A on Nerdist's YouTube channel.) Here are some snaps: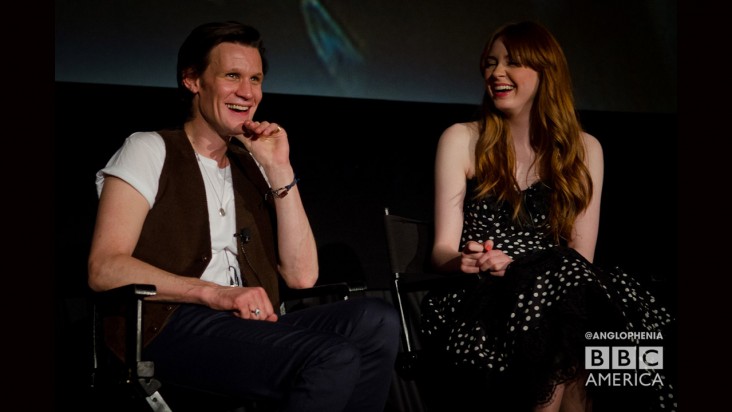 Check out more photos from the event!
Read More
Filed Under: