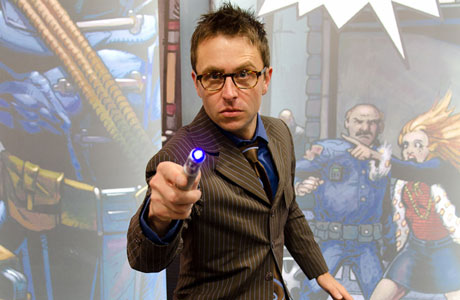 The Nerdist host Chris Hardwick, the ultimate celebrity Whovian, chatted with us on San Diego Comic-Con's red carpet about all things Doctor Who, including his cosplay adventures as David Tennant's Doctor. Chris has perfected the No. 10 look, right down to way Tennant wielded the sonic screwdriver.
But, as Hardwick explained to us, there's always that awkward moment when you're dressed as the Tenth Doctor and you run into Matt Smith, who currently plays No. 11. Oopsy, major Time Lord faux pas. Watch our interview:
Also, Hardwick has become quite friendly with Matt, Karen Gillan, Arthur Darvill, and the rest of Doctor Who crew through their work together on The Nerdist. Hardwick says that knowing the people behind the show has only made his fandom stronger:
Watch back-to-back Nerdist specials with Chris Hardwick Saturday, July 28 at 9/8c on BBC AMERICA.
Read More
Filed Under: