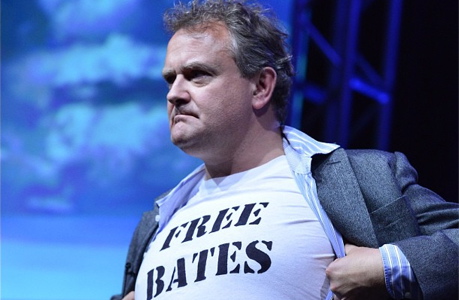 Hugh Bonneville is quite the cut-up. The British actor, appearing with fellow Downton Abbey cast members and series creator Julian Fellowes at a panel at the Television Critics Association press tour in Los Angeles over the weekend, wowed the crowd when he stood up and unbuttoned his shirt to reveal a t-shirt reading, "Free Bates."
That would be John Bates, the show's jailed valet, a character who is played by Brendan Coyle. Both Bonneville, who on Downton portrays Lord Robert Crawley (who is Bates' employer), and Coyle were nominated last week for Emmys for their roles in the British period drama, as were cast mates Jim Carter, Maggie Smith, Michelle Dockery and Joanne Froggatt.
In addition to a freewheeling Q&A session with the Downton cast, a trailer – sorry, it's not available yet for general viewing – hinting at plot developments for Season 3 was also shown. It revealed that the Crawleys might be in for financial difficulties, all may not be bliss between lovebirds Lady Mary and Robert, and the Irish troubles will be a plot factor.
At the same session, newcomer Shirley MacLaine said she hadn't even watched the hit series prior to being offered the role of Martha Levinson. That's the new character played by MacLaine, who will arrive from America in Season 3 to visit her daughter, Lady Cora Crawley (played by Elizabeth McGovern), at Downton Abbey. The Oscar-winning, veteran actress said she had only accepted the part after her hairdresser, a fervent Downton fan, told her that she absolutely must.
If you want to find out more about the TCA session, including additional spoilers for the forthcoming season, click here to read the L.A. Times coverage, here to read Oh No They Didn't! spoiler reports, and here for info from EW's Inside TV blog.
—————————————————————–
What would you most like to see happen in Downton Abbey's third season?
—————————————————————–
Read More
Filed Under: