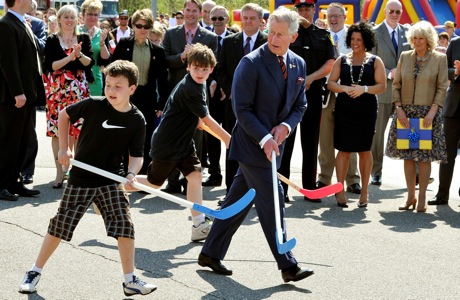 "Don't expect dragon boat racing and street hockey this time around," wrote the CBC News in advance of Prince Charles and Camilla's Diamond Jubilee trip to Canada this week, predicting that it would be a "more sedate affair" than last summer's Will and Kate roadshow.
Yet just one day into the four-day Canadian visit, the CBC's prediction was proved at least partly wrong, as the Prince of Wales  picked up a stick and joined in a street hockey game in a schoolyard in Saint John, New Brunswick on Monday.
Unlike his son William's scheduled hockey match last summer, Charles' participation in the pickup game was reportedly unplanned – a whim of the future king.
And also unlike his son, the Prince of Wales scored a goal, reported the Winnipeg Free Press.
As for dragon boat racing – the trip isn't over yet.
Earlier in the day, Charles visited Canadian Forces Base Gagetown, where he himself had piloted a navy helicopter in the 1970s.
It was, he said, "at an exercise area in the middle of nowhere."
On Tuesday, the royal couple headed to Toronto, where they "took this town by storm," wrote Christina Blizzard in the Toronto Sun. "Anyone who thinks we don't care about the Royals should think again."
Visiting a youth center, Charles appeared to be enjoying himself as he experimented with being a DJ.
Well-wisher Justyna Zegarmistrz, 18, who gave Camilla a bouquet of flowers, said she thought Will and Kate's visit last summer helped to pave the way for Charles and Camilla.
"It was a marked departure" wrote the Toronto Globe and Mail of this week's trip, "from the tone of Charles and Camilla's previous visit, in 2009, when they were greeted by lukewarm crowds in many cities and forced to enter through a back door at one venue because of anti-monarchy protests in Montreal."
Still, Canada has its share of republican sentiment. Though many comments on the CBC's website were very supportive of the royal family, others were critical that Canadian taxpayers were footing the bill for the trip in hard economic times.
"A waste of money and time on an archaic and irrelevant institution," wrote one person.
"I couldn't care less," wrote another. "These people are not my superiors, I am not their subjects."
Many, however, disagreed.
"Most of the population here has ties to the British," wrote a supporter. "What's wrong with celebrating that? The Queen's 60 years as our monarch? Or the fact that people like the royals in general?"
Read More
Filed Under: