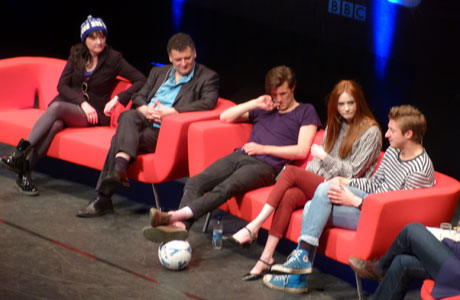 So, photos have been taken, collected and signed. Handshakes and kisses have been exchanged. The fezzes are going back in their boxes and the tweed jackets back on the coathooks. The first official Doctor Who Convention has finished, and it's been a triumph.
We'll be putting up interviews with various Who-related people over the next day or so, but in the meantime, I'm just gonna blurt this one thing out so it's clear and everyone knows, as it's rather exciting.
At the conference today, Steven Moffat revealed two things:
1: The weeping angels are coming back in episode five of season seven.
2: They will make their return in NEW YORK. A story which will be filmed on location. In NEW YORK. Or NEW YORK, AMERICA, as we call it in Britain, Europe. NEW YORK THOUGH!
Here's what else we've learned today:
• An interesting discovery that came out of this morning's Meet The Stars panel is that Karen Gillan is terrified of things that buzz and fly, as a lot of people are. She's scared of moths, she's scared of midges, and she's scared of butterflies. Actual butterflies. I know!
• Steven Moffat's standard answer to any question about future episodes of the show is a delightedly sing-song "I'm not telling you!"
• Arthur Darvill told an amazing story of a man he met who said he had meticulously arranged his wedding day so that there was an hour-long break to watch Amy and Rory's wedding, which happened to be live on TV on the same day.
• A very keen Whovian called Jordan offered a jelly baby to the panel, and got a jammy dodger in return from Matt Smith.
• Caroline Skinner was wearing a knitted TARDIS hat, given to Karen Gillan the day before by a fan.
• Due to collective silliness, all three stars of the show took to the stage for one of their Meet The Stars panels using huge balletic leaps. Matt then embarked on a keepy-uppy of a soccer ball, reaching 50 kickes, but only on the condition that people in the audience would donate money to the BBC's Sport Relief charity.
• During an aside about the amount of times Arthur has had to play death scenes, Steven ominously rumbled: "and you ain't seen NOTHIN' yet!"
(This rather shocked the audience for a moment, and completely derailed Steven's train of thought)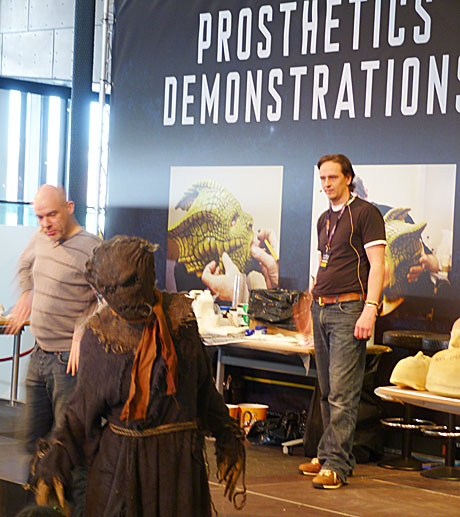 • During filming for season seven, Arthur has spent a certain amount of time being suspended upside-down, by a man called Bob, who has also 'flown' Matt Smith, as well as Brian Blessed, and Christopher Reeve (or, as Matt's impression of Bob puts it, "Reevesy") in the Superman movies.
• There was a slightly jarring moment when a fan asked the panel if there would ever be a female Doctor, and Steven pointed out it would be entirely possible, but then asked for a show of hands who would like to see it happen. This got about 50% of the audience raising their hands, but he then asked how many people would switch off the show if there was a female doctor, and 20-30% of fans put a hand up, to a certain amount of gasping from everyone else.
• And finally, a personal anecdote. I went on the tour of the TARDIS set this afternoon (full report to follow), which required a short bus ride out of town. On the way we passed a suburban side street, on which there was a black Dalek. Other people saw it too, not just me, and yet this was nowhere particularly near the Millennium Centre. However, there he was.
Then later, after we got back, it turned out that the Dalek had gone to the convention, and was shooting people with water, much to their delight. Which leaves only one question: did he commute from the suburbs?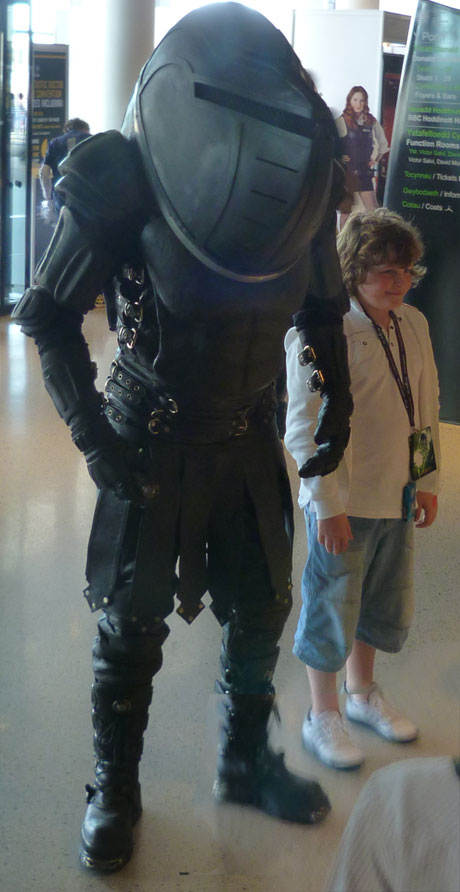 Next (and finally): A TOUR OF THE TARDIS!
Read More
Filed Under: